Operation Restoration: Mending God's World
July 17-21, 2023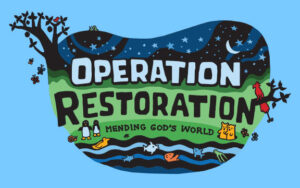 During this exciting week-long program, kids learn to be menders of the universe as they explore the daily themes of Feed, Heal, Forgive, Pray, and Rest.
Students age 4 through those entering 5th grade will be on campus from 9:00 to Noon each day, growing in faith as they play, learn, sing, and work to ReNew our community, near and far.
Students entering 6th through 12th grades will help the younger students in the mornings and then head out for local field trips in the afternoons where we will learn how to care about our environment and our neighbors. Pick up time is at 3:30.
Click HERE to Register for VBS (PreK-5th Grades)

Click HERE to Register for Day Camp (6th-12th Grades)