Confirmation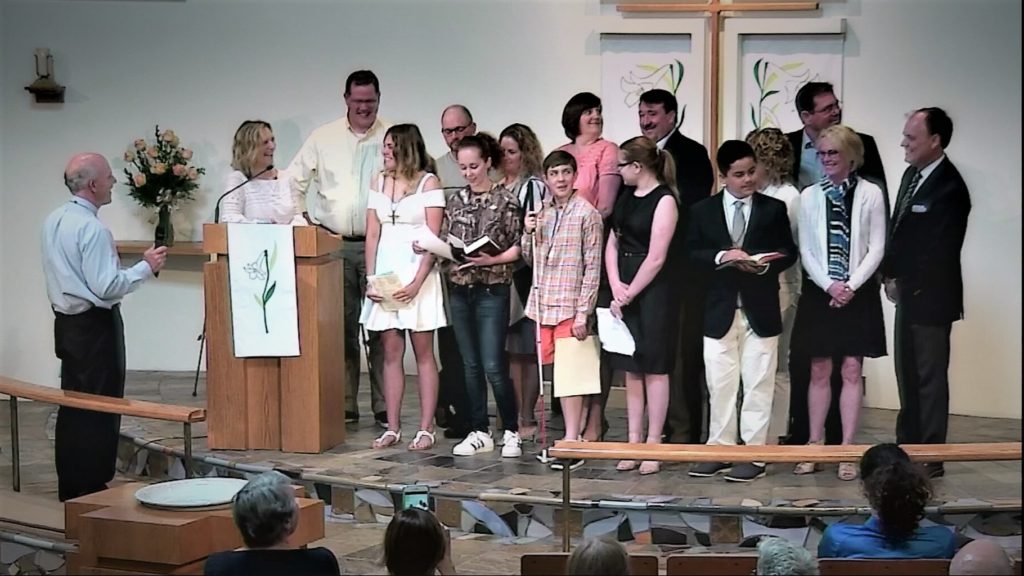 Congratulations to our 2017 Confirmands and their parents. The confirmation students include: Anna Bennett, Coral Caveness, Lucien Gandarias, Kelsey Griswold Bacigalupi, Olivia Varga, and Jakob Wilson.
Trinity provides an active, fun, Christ-centered program for middle-school-aged youth interested in developing and deepening their faith. 
Confirmation 
Our confirmation classes are fun, educational, and practical; a time for parents and students to share and grow in their faith.
Confirmation Students worship at 11:00 am.
Class starts in the Fireside Room at 12:15 p.m.. Class time concludes at 1:00 pm.
Families take turns providing lunch after class. Following lunch, there is time for fun and games in the gym.
Students also have opportunities to grow and live their faith through field trips, service projects, lock-ins, summer camp, and other fun and engaging group activities.
The most important thing that you can do for your students is to worship with them, and insist that they come to class — in fact, it would be best if one parent attended each class with their student.
Look for our 2017/18 confirmation class schedule in the Fall of 2018. Meanwhile, here is this past year's schedule to give you an insight into how our confirmation program is conducted.
2016-2017 CONFIRMATION FOR MIDDLE SCHOOLERS
Emphasis:
Worship & Christianity in Daily Life
Components:
Sunday Morning Worship Attendance
Sunday Afternoon Class with Pastor Jim – 12:15 pm
Service opportunities on Sunday Morning
Service opportunities in larger community
Requirements:
SUNDAY AFTERNOON CLASS (See schedule below)
12:15 pm – Fireside Room
            Worship Conversation
            Faith in Life
            Catechism
1:00 pm – Lunch and games in the gym
Sunday, October 2 – ORIENTATION: Students & Parents meet 12:15 pm
Sunday, October 16
Sunday, November 6
Sunday, November 13
Sunday, December 4
Sunday, December 18 – CHRISTMAS PARTY, Caroling at Maple Ridge
Sunday, January 8
Sunday, January 15
Sunday, February 5 – SUPER BOWL PARTY, 3:30 in the Fireside Room
Sunday, February 19
Sunday, March 12
Sunday, March 26
Sunday, April 16 – EASTER BREAKFAST – All volunteer to help!
Sunday, April 23
Sunday, May 7
Sunday, May 21 – CONFIRMATION SUNDAY
SERVICE OPPORTUNITIES on Sunday Morning
Serve coffee (with one or both parents)
 Usher (with one or both parents)
Greet
Serve communion
Acolyte
CONFIRMATION/AFFIRMATION OF BAPTISM SERVICE – MAY 21, 2017