Sunday School
Sunday School for PreK through 5th grade students takes place from 9:30 to 10:30 in the Sunday School Wing September through the third week of May.

We're starting the year with a kick-off celebration at 10:00 on Sunday, September 10th. Join us for games, crafts, and snacks!
We enjoy Bible stories, crafts, games, and great conversations. Come and see!

Students in preschool through 5th grade are welcome to participate in our fun and engaging classes! Middle School and High School students are welcome to help!
---
Infant and Toddler Nurseries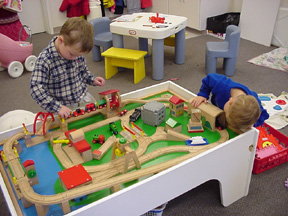 Our nursery is open for infants and toddlers during the 9:30 and 11:00 a.m. worship services beginning September 17, 2023.
Infants, toddlers and young children up to age 4 have a blast in our delightfully decorated nursery, loaded with safe toys. Infants and toddlers are carefully watched over by our experienced, trained and screened staff. 
---
Preschool thru Fifth Grade Sunday School
Trinity Sunday School offers classes for students in PreK through 5th grade. Classes are led by devoted and background-checked adult teachers and high school helpers.
You can be assured that each week the children will open their Bibles and encounter God's word with amazing stories from the Old and New Testaments. Each week we engage in scripture and then relate the message to everyday life. There are also crafts, games, and science experiments to help share the word of God at TLC Sunday School.
---
Middle School Youth Sunday School (Confirmation Class)
Trinity's Confirmation Program is for youth in their middle school years (grades 6, 7 and 8).
This group meets for lunch, a faith-based conversation, and games from 12:00 – 2:00 every Sunday, beginning September 24, 2023.
These are the years when the gospel is explored, examined and questioned — and ultimately made one's own. This is the strong foundation which we seek to give our youth as they enter the teen years and prepare to assume the responsibilities of adulthood.
All 6th, 7th and 8th grade students and their friends are invited.
---
Director of Christian Education
Deacon Amy has been with Trinity since 2017.
Contact her at [email protected]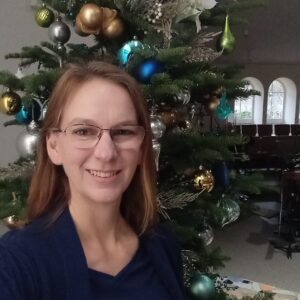 , or call 360-331-5191