Sunday School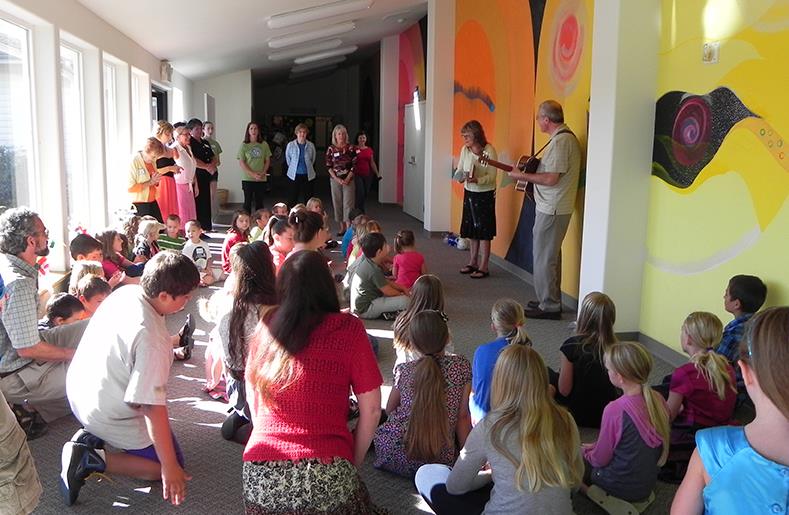 ---
Due to the Governor's stay-at-home order to flatten the curve of the novel coronavirus, our Sunday School is taking place virtually, and at home.
Watch your email for weekly video messages from Deacon Amy. We will also have monthly take-home packets available with crafts and other activities to tie into our Sunday School learning.
Click HERE to go to our Vimeo page with all of our Sunday School lesson videos for this season.
When things resume to normal, here is a look at what Trinity Sunday School offers…
Our comfortable and inviting nursery is attended by kind and caring staff members every Sunday morning. Children will have an opportunity to play with a multitude of safe toys, read stories, and explore the fun and engaging space with new friends. The nursery is available for infants and toddlers during all three worship services, throughout the year.
Preschool through middle-school aged students spend the hour in grade level classrooms, exploring the same Bible stories that are preached about during worship. Students will form relationships with their peers and teachers while singing, creating, reading, discussing, and growing in their faith. Our studies include Bible passages from the Old and New Testaments. We also spend time learning about Martin Luther and the Reformation, as well as important church holidays and traditions.
We gather all Sunday School students together to begin the morning session with music and announcements. Occasionally we'll have puppet shows or other fun guests!
At holidays and other special times, we use the education hour to celebrate together with games, stories, music, and crafts.
High school students and adults attend "Adult Education" in the Fireside Room, where a variety of presenters speak about intriguing topics.
Once each quarter, people of all ages get together for movies, games, food, and fun. Watch the church calendar for upcoming events.
---
Infant and Toddler Nurseries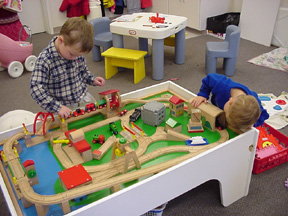 Who says church can't be fun? Infants, toddlers and young children up to age 5 have a blast in our delightfully decorated nursery, loaded with safe toys. Infants and toddlers are carefully watched over by our experienced, trained and screened staff. Parents may have peace of mind when entrusting their little ones to the nursery while they attend either church services or the Adult Education class.
---
First thru Fifth Grade Sunday School
Trinity Sunday School offers classes for students in prekindergarten through 5th grade. Each class is led by devoted and background-checked adult teachers.
Trinity Lutheran's Sunday School curriculum is lectionary based, meaning that the lessons that we are teaching coincide with the lessons being preached about in worship. We feel it is important that the kids message in Sunday school connects to the message in church.
You can be assured that each week the children will open their bibles and encounter God's word with amazing stories from the Old and New Testament. Each week we engage in scripture and then relate the message to everyday life. There are also crafts, acting, puppet shows, and music to help share the word of God at TLC Sunday school.
---
Middle School Youth Sunday School (Confirmation Class)
Trinity's Confirmation Program is for youth in their middle school years (grades 6, 7 and 8).
These are the years when the gospel is explored, examined and questioned — and ultimately made one's own. This is the strong foundation which we seek to give our youth as they enter the teen years and prepare to assume the responsibilities of adulthood.
All 6th, 7th and 8th grade students and their friends are invited.
---