Today's Word from Deacon Amy…
This past Friday evening I returned home exhausted, sore, and thoroughly delighted after spending a week at camp with a group of middle school students. The last time we were at camp was in 2019; it was so very good to be back!
On Sunday morning, we met in the parking lot to load our gear into Trinity's van. This 12-passenger van has a remarkable way of stretching to fit our needs. Six middle schoolers and two adults, with all of our gear, fit comfortably to make the 7+ hour journey from Whidbey Island to Lake Coeur d'Alene in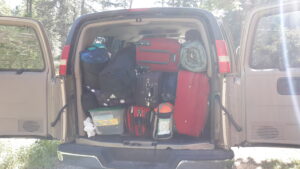 Idaho.
Together, we attended the 8:00 worship service, some of the teens stifling yawns as they had not seen that early hour since school got out for summer break. After gathering near the font for a prayer of safe travels, we piled into the van and headed east. We ate lunch on the road and made it to Camp Lutherhaven with plenty of time to get checked in before dinner was served.
The week was spent in a combination of study, conversations, adventures, silliness, exhaustion, and just plain fun. We would gather in a private meeting space in the mornings for a Bible lesson (this year, we focused our studies on the latest Disney movie, "Encanto,") and games before joining the rest of the camp for lunch. In the afternoons we joined in camp games and activities, went swimming in the lake, and had some great adventures as a group.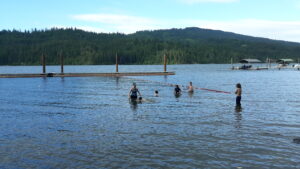 On Tuesday afternoon, the camp arranged for us to do some challenge activities where the students worked together as a group to solve a problem. The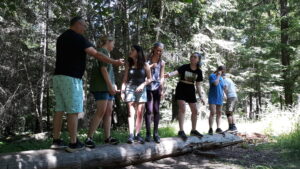 first task was to have everybody stand on a log and arrange themselves in age order, without stepping off of the log, and without talking. It was very entertaining watching them try to communicate without speaking! Next was a more complex activity where they had to move the entire group through a course of stepping stones, using only two boards to create "bridges" between stones. There were some interesting rules in place that added to the challenge – but the kids worked it out and everybody got through!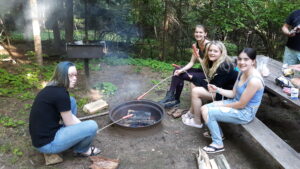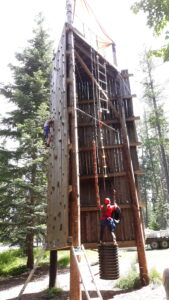 Wednesday afternoon brought the much-anticipated climbing tower and zipline! The climbing tower is a three-sided structure that stands 35 feet tall. Each side offers a different kind of climbing experience. Two sides are engineered climbing walls with spaced out foot and hand holds. The other side is what they call the "junk yard." This is an odd assortment of obstacles, all connected with ropes and bungees, meaning that none of the obstacles on this side are anchored, so they all continually move. Students had an opportunity to don a harness and helmet and tackle whichever side (or sides) they liked. For the couple who were not able to make the climb, there was a ladder that got them to the top. Once at the peak, their harness was switched to a zipline and they came back to the ground by flying over our heads and out into the grassy field. The afternoon was a thrilling mix of excitement and terror as students stretched their limits, went outside of their comfort zones, and tried something new. I'm thrilled to report that every one of them reached the top of the tower and took the zipline down. It was awesome!
After our morning Bible study on Thursday, we packed for the day and headed to Silverwood Theme Park where we played
all day long. There were water slides, a lazy river, a train ride, and roller coasters galore. The kids had an amazing day swimming, riding, and playing. When we arrived back at our cabins around 10:00 that night, everyone crawled straight into bed and fell fast asleep.
On Friday morning, we once again packed the van and made the long drive home, pausing to stretch our legs and enjoy the views at Vantage before stopping in Ellensburg for a "sit down" lunch at IHOP. It's always fun to see some of these kids order their own meals for the first time. Milk shakes and waffles make an interesting combo!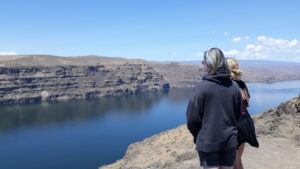 The week was amazing. We talked, we explored, we grew, we learned, we stretched our boundaries, we made new friends, and we had a blast!
Thank you, Trinity, for supporting our kids and making trips like this possible. Because of your generosity, our families only had to pay about half the cost of this trip, making the adventure accessible for everyone. Thank you!
Now it's time to switch gears and get ready for Vacation Bible School and Day Camp. Soon enough I'll be heading to Montana with high school kids. I'll keep you posted on our adventures!
Deacon Amy