Today's Word from Preschool Director Felicia Lindus
Forward in Faith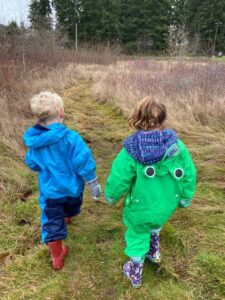 When the school year began, we had so many more questions than answers: What would the weather be? Could we stay outside? Would we stay healthy? Would this be fun? Would the program be beneficial for our students?
There was so much that was unknown and we were truly going forward in faith every day. We are so grateful to be able to say YES – this was good and we are all well. Thanks to our preschool parents for sending us appropriately dressed children, and being patient with us when we returned your precious children to you covered in mud and muck. We definitely learned that the weather does not matter to the children.
Christmas Celebrations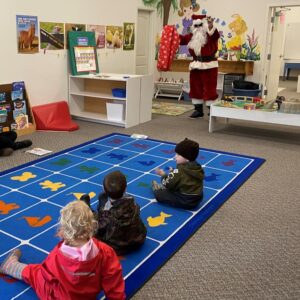 We finished our holiday session with many special holiday happenings. The children made special gifts for their families, decorated cards, and practiced songs. We had a mini concert in the Meadow and acted out the First Christmas in Chapel. The kids were so excited when Santa was able to make quick visits during his busiest time of year. We noticed that the pandemic is also affecting life at the North Pole. Santa really needs a haircut and beard trim.
January Remote Learning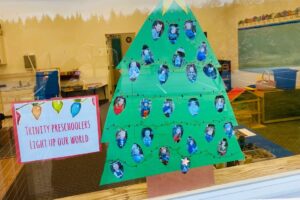 Trinity Preschool will go remote for the month of January. Children will receive weekly activity packets and have access to teacher-recorded songs and stories. They will also have the opportunity to Zoom with their class to say hi to their teachers and friends.
Consideration of holiday gatherings and winter weather contributed to the decision to learn remotely for this period.
Preschool will return to our normal schedule on February 1.
We are grateful to the community of TLC for continuing to support our Preschool through the unpredictability of 2020!
Felicia Lindus