Thank you for your love, your support, and your good care of your TLC home. God loves a cheerful giver.
Vision 2020 is a campaign dedicated to the care of our Trinity Lutheran Church Campus, our Island Community, and the people of Bihar, India.
This two-year campaign began on January 1st, 2018. In that short 16 months we have accomplished so very much. Thanks to your generous support we have:
* Resurfaced and striped our parking lot, good for another 25 years.
* Installed new carpeting in our Sunday School wing.
* Repaired and painted our Community Building on Highway 525.
* Repaired and replaced the roof on our Community Building.
* Given $50,000 to Lutheran World Relief, earmarked for Bihar, India.
* Installed a new sound system and locking cabinet in the Fireside Room.
All told we have spent some $220,000 on these projects and as a result our campus has never looked better.
We are now in the final eight months of Vision 2020. We still have goals to accomplish.
Our much used Trinity Preschool Playground is beginning to deteriorate. We will be installing new playground equipment, and making some much-needed changes to the playground, before Preschool starts in September.
We are hoping to replace our TLC Van that is used regularly by our youth group, our quilters, and the ministry of His Hands Extended.
We are going to give significant gifts to our local food banks, Good Cheer and Gifts From the Heart.
We are hoping to complete our commitment to Bihar, India, as we help to lift 60,000 people out of poverty and into a more sustainable future.
Can you help us reach our Vision 2020 goals? Blessed to be a Blessing!
This is our plan:
All Vision 2020 gifts in May and June will go to our Playground Improvements. Love kids? Want to foster play and imagination? You can help us in May and June.
All Vision 2020 gifts in July, August and September will be split between our local food banks and Bihar, India.
All Vision 2020 gifts in October, November and December will go toward the purchase of a new TLC Van.
Blessed to be a Blessing — Vision 2020:
Thankful for the past, investing in the future.
I thank you in advance for your generous support.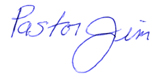 Pastor Jim Lindus