This Too Will Pass
A Word from Pastor Jim
Do you remember the days after 9-11? The markets were in chaos. The skies were eerily silent. Airports were empty. The future seemed uncertain. Time seemed to stand still and all of life was in a kind of limbo. The Sunday morning services immediately following 9-11 were packed. People came to church looking for God; for comfort, for answers, for hope.
The uncertainty of life is always present, but only occasionally does it slap us in the face reminding us of our own frailty. The coronavirus has reminded our nation just how frail, fleeting, and out of control we actually are. It would be understandable to hunker down in fear, to isolate ourselves entirely, to be weighed down with anxiety.
I have no idea how this will play out, but I can tell you that it will play out and life will go on. The skies will again be filled with airplanes, fans will show up to sporting events, schools will be opened, and the faithful will return to church. This too will pass.
In the meantime, we need to be prudent and careful. Our response to this virus should be measured, consistent with the level of threat. At TLC we serve many in the most vulnerable risk demographic. Therefore, we have made many adjustments to our shared life and worship. Until further notice, please watch our Sunday sermon and music online.
The Trinity Preschool is following the lead of the South Whidbey School District and remains open at this time. On Friday, March 13th we will close our campus to all outside groups.
This too will pass, but until it does we want everyone to be prudent, precautionary and safe in their daily life. Stay home if you need to, but do not spend your day watching news programs that exaggerates risk and promote fear. You can get good information by searching for CDC.GOV.
Do not despair, be empowered by doing something productive. Send cards to shut-ins, make phone calls to friends or church people who might also be isolated. Sit down and write a letter to your children or grandchildren sharing memories from your childhood. Visit the Trinity website and take in a few old sermons or click on the Videos button at left and peruse the hundreds of sermons we have on Facebook.
Be still, be not afraid, this too will pass!
I am writing a sermon for Sunday. I hope that you will hear it in person or online.
Spring is breaking forth; new life is bursting forth. Life is good.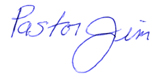 Pastor Jim