I was glad when they said to me, "Let us go into the house of the Lord!"
This Sunday is going to be amazing! I promise you that you will be blessed if you put yourself in the path of the Gospel this Sunday. The first thing you need to do is to remember that we are moving to our Summer schedule with services at 8:00 and 10:00. Once you have decided which service to go to, the next thing to do is to go to your closet and find your favorite festive African clothing. If you don't have anything from the many African cultures, then just wear your Trinity Tee Shirt.
The services are going to be graced with high energy African music, led by our choir and a world class African drummer. We will be reflecting on the Creation Story from Genesis 1. The sermon will be the best one that I will preach this week. The coffee will be made and ready by 6 a.m.
If you are on the island this weekend, then I expect to see you in worship. If you have friends or family members visiting you, I promise that they too will be welcomed and blessed by worshiping with the people of God at TLC.
Speaking for our entire Church Staff, I thank you for doing your part as together we keep the TLC miracle going and share the Gospel of Jesus in this amazing place of Grace.
Love you all!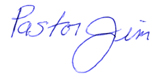 Pastor Jim