Today's Word from Pastor Jim…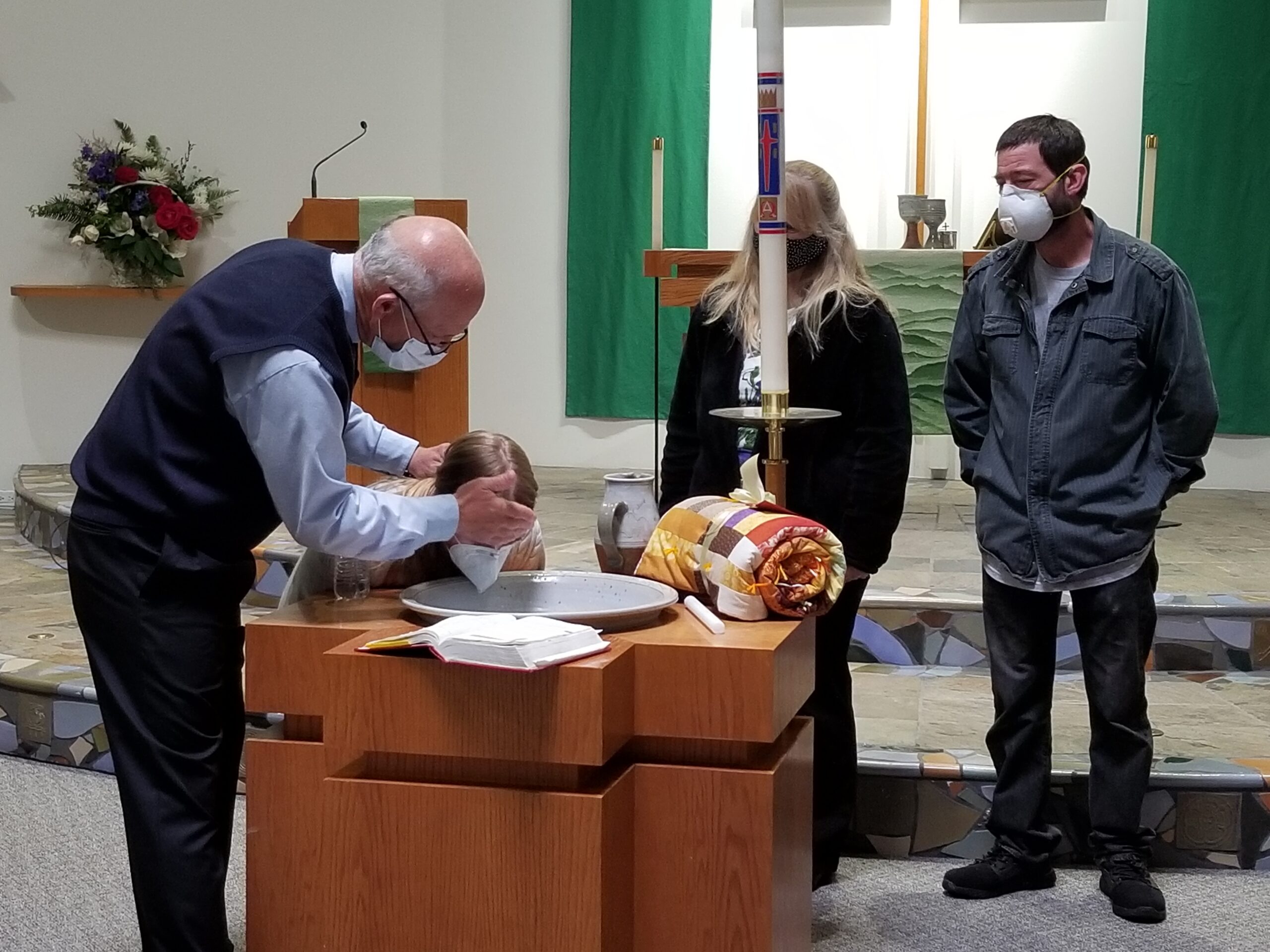 It has been a big year for Skyler Stonebridge. A proud member of the South Whidbey Graduating Class of 2020, Skyler graduated in a Zoom ceremony. On July 5th he celebrated his 18th birthday with a virtual party. And on Thursday, July 2nd he walked into the sanctuary at Trinity Lutheran Church. Towering over his parents, he had come, after a period of instruction, to be baptized. The TLC Staff represented the congregation, everyone was dressed in their finest masks, and we social-distanced as much as possible. It is pretty difficult to baptize from a distance. The service was beautiful and strange. It was joyful and sad. It was quintessential 2020.
After several social-distanced graveside services, I will officiate at a funeral this month for Jacqueline Ronning. Jackie lived life to the fullest for 97 years. She lived in her own home, next to her daughter Pam Kniseley, until two days before her death at Whidbey General Hospital. Her funeral will be conducted on Zoom.
Most of my 2020 weddings were canceled, but in July, I will officiate at one wedding. This was to be a grand affair; every detail was carefully planned, every need of honored guests anticipated. The wedding will be a celebration of love and commitment, but the wedding party will be mostly at home. The bride and groom will be joined by two witnesses and one old preacher. When it is over, it will be a beautiful memory, and they will be married. It will be joyful with a tinge of sadness for what might have been. In other words, it will be quintessential 2020.
I know that there are some among us who are itching to return to our beloved TLC sanctuary for in-person church. How we long to be together again; singing hymns, sharing smiles and hugs, tasting grace in bread and wine, tasting sweets in the coffee hour, praying prayers and praising God. But the reality is quintessential 2020. We would need to wear masks from the moment that we arrived until the door closed on our car for departure. We would need to make reservations, stay 6 feet apart at all times, monitor the bathrooms assuring that no more than two people were in there, and there would be no communion or singing, or coffee hours. Would it be safe for a largely at-risk population to worship in this way? Probably, maybe, could be, who knows. For now, love looks like an empty church. It is quintessential 2020.
Well done, Skyler! Well done, Jackie! Good luck to Patty and George!
It is good to be the church together, though apart. It is quintessential 2020!
One day closer to 2021!
Pastor Jim
To make a donation to Trinity, follow this link: https://trinitylutheranfreeland.org/give/