Open 24/7 But Closed Today
Weekly Word
I was on the mainland yesterday and decided to wash the smoke and ash off my car. I noticed a sign that said, "New Touchless Car Wash. Open 24/7." Perfect, I pulled up to the car wash and there was another sign. This one said, "Closed today."
Sometimes life is that way. This is a first world problem, but in fact, it is not really a problem at all. I could simply wash my own car or I could find another car wash. Comfortable in my car, and dressed in a shirt and tie, I looked for and found a very open and acceptable car wash. Mission accomplished.
Open 24/7 but closed today. Sometimes things are not as advertised. Sometimes promises are not kept. It has been a season of weddings for me. I have officiated at many this summer, and I have five more in the next eight weeks. Young or old, couples stand before God and their loved ones, and promise to be faithful until death parts us. We know that 40% of those marriages will dissolve before death parts them.
Open 24/7 but closed today. I was sitting with my Jewish Uncle Mike a few years ago. Mike teaches at Harvard and is a Pediatric Cardiologist at Boston Children's Hospital. A wonderful Son, Father, Husband, Grandfather and humanitarian. We talked of life and faith. He said something that I have never forgotten; "In the end, there is only one measure of a person's life that matters. Did they keep the promises that they chose to make? Were they faithful to their chosen vows?"
Money, degrees on the wall, fine homes and fine cars, traveling the world, and earning impressive titles at work are all good. But in the end, the measure of one's life is simple, and readily accessible to the rich and poor and to the educated and less educated. Did we keep the promises that we chose to make? Were we faithful to our chosen vows?
No matter what the verdict is on our life or our marriage, it is good to know that we are bathed in the Amazing Grace of God. For God is The Promise Keeper. God's promises are simply and few: We are loved—always. We are forgiven of all of our sins—and vow breaking. And we are never alone— in life and in death we are never alone.
Open 24/7 but closed today. God's Promises are trustworthy and true for eternity. For better, for worse. For richer, for poorer. In sickness and in health. Even death cannot separate us from the love of God.
Keep smiling!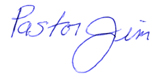 Pastor Jim