Today's Word from Pastor Jim…  
In 244 years of American History, there have been 32 occasions when distinguished citizens have lain in state at the Capitol Rotunda in Washington D.C. The first to be so honored was the Speaker of the House from Kentucky, Henry Clay. Clay laid in state on July 1, 1852.
The vast majority of those who have been lain in state were Generals, Admirals, Congressional leaders and Presidents. On three occasions, the nation bestowed such an honor on Unknown Soldiers. The Unknown Soldiers from World War 1, World War 2, Korea, and Vietnam have graced the Capitol Rotunda.
In the closing days of 1886, the body of John Alexander Logan lay in state. Logan was a member of Congress and a Civil War veteran. He was also the founder of the current National Holiday called Memorial Day. In 1868, the date of May 30th was chosen by Logan for such a solemn observance.
Only two of those so honored were born outside of the United States. Senator Daniel Inouye was born in the Territory of Hawaii. Pierre Charles L'Enfant was born in Paris, France. At the age of 23, Pierre Charles L'Enfant came to America to join the Continental Army. He served on the staff of General George Washington at Valley Forge in the Revolutionary War. At Valley Forge, he painted a portrait of the great General and future president.
When the fight for independence was over, the United States looked to the future. Pierre Charles L'Enfant would oversee the remodel and enlargement of 26 Wall Street. The City Hall of New York would now serve as the first seat of Government. In 1779, President George Washington appointed Pierre Charles L'Enfant to be the chief planner and architect of "Federal City." The Capital City on the Potomac would later be named the City of Washington.
L'Enfant would die penniless on June the 14, 1825. His entire estate was valued at just $46. He would be buried unceremoniously in rural Maryland. Eighty-five years after his death, he would lay in state in the Capitol Rotunda. L'Enfant would be laid to rest with honors at Arlington National Cemetery. His burial site would provide him with a view of the city he designed.
Thanks to the pandemic, our Memorial Day Weekend observances will feel different this year. Maybe we can pause to consider the real meaning of this National Holiday. Brave citizens served and died to give us our freedom. May we have the courage and faith to take our place in a line that stretches back 244 years. May we work tirelessly and sacrificially for the common good of all people.
We are one day closer to the end of this crisis.
Much love,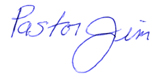 Pastor Jim
To make a donation to Trinity, follow this link: https://trinitylutheranfreeland.org/give/