Today's Word from Pastor Jim…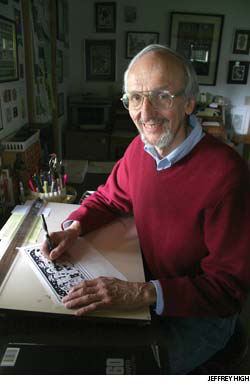 Pastor Daniel Erlander joined our staff in 1995, and served Trinity for nearly a decade. Dan brought so many gifts to us. He was a gifted teacher, writer, illustrator, and preacher. His reach was far beyond the shores of Whidbey Island as he continued to publish books and teach across the ELCA. He would say, "I am an internationally-known speaker. I gave a speech once in Canada." He was humble, funny, insightful, playful, an absent-minded professor who loved Jesus and loved the people of TLC.
Dan shared with us a deeply felt concern for the poor and marginalized. He told us that his mother had inspired him to lift up the causes of the hungry by giving to the ELCA World Hunger appeal. During Pastor Dan's time at TLC, we became one of the leading congregations in the ELCA in World Hunger giving.
Pastor Dan's influence is still apparent at TLC. We were forever transformed by his understanding of God's Grace, and unconditional grace for poor humans like us. Pastor Dan wrote his final book in 2010. It was called "Tales of the Pointless People." Through words and illustrations Dan teaches us that we cannot earn God's love by a point system. God's love is grace-based and it has nothing to do with our good works. Dan personalized the copy of the book he sent me, "To brother Jim, dear pointless pastor, Peace and love, Daniel." It is one treasure among many that he gave me. 
This afternoon at Trinity Lutheran Church in Lynnwood there will be a memorial service for Pastor Daniel Erlander. We will have the opportunity to thank God for sharing Dan with us, to remember with a smile his playfulness, and to come alongside of Karen Erlander in her grief. Death will not have the last word. Resurrection will have the last word.
Daniel Erlander, child of God, is safe in God's hands. A pointless pastor has come home to bathe once again in grace.
Thanks be to God.
Pastor Jim