Today's Word from Karl Olsen…

On my mind today is really a song, rather than the hymns Sheila and I have been exploring in recent months. On my mind as we prepare to welcome, again, the birth of Jesus, is the different ways we see Jesus, and how that is informed by our particular situation—our ethnicity, gender, nationality, wealth, influence, faith, and I'm sure many other distinctive characteristics you could name.
It seems to me, a north American, White, middle-aged, middle class, protestant Christian with deep Scandinavian roots, that I need the help of others to give me a more rounded vision of who this Jesus is, what his call is, and who I might be because of his witness. I am very blessed by my tradition, my parents, a Danish Lutheran church upbringing and community, and it gives me great pleasure to dive in head first every Christmas season!
But… it is also on my mind that I am in deeeeep need of others' perspectives on this life, especially this life of faith, to better understand the gifts that are possible within it. We have talked about our safe bubbles during this pandemic, but there are other bubbles, as well. And it feels good to take a needle—or my baton or my chainsaw, sometimes—to mine, and experience the world outside my own.
From that perspective, on my mind today is Alfred Burt. He was a jazz musician and the son of the Rev. Bates Burt, an Episcopal priest, in Pontiac, Michigan. Bates had a tradition of writing a Christmas card with a new carol every year and sending it to family and parishioners. While he was in the Army during WW II, the good Rev. asked Alfred to take over the writing of the carols to the lyrics he would send.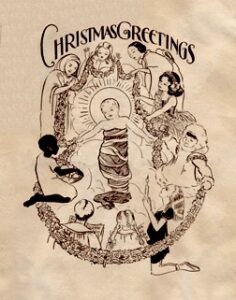 From 1947 on, following the Rev. Burts' passing, Alfred and his wife Anne carried on the family card and carol tradition. When Alfred moved to Los Angeles to write and perform, Anne stayed behind to give birth to their daughter, Diane. The Burts asked the parish organist, Wihla Hutson (who had become like a member of the family) to write poems for the carols, and Alfred would continue to write the music.
Gradually gaining acclaim for his work as an arranger and composer, and as a player, Alfred and Wihla continued to write, even as Alfred was diagnosed with lung cancer and Anne lost her second pregnancy. Their writing, it seemed, was sometimes in response to their situation and in hope for the future.
In 1954, Alfred knew his death was near and completed his last carol, The Star Carol, the day before his death. The carols were carried on for years by Wihla Hutson (until her death at 100 years old) and Diane Bates Burt (now Diane Burt D'Amico) still directs the Caroling Company singing the Burt carols and lots more, but, like the rest of us, taking a performing break due to this pandemic.
In 1951, Wihla wrote the poem Some Children See Him. With the U.S. engaged in the Korean War – following so closely after the Second World War with Germany and Japan – the simple but moving lyric of this carol affirmed that children of any nationality could imagine Jesus to be like them, with the underlying message that love is more important than any claim of race or nationality. In 1995, the country of Palau issued a series of stamps… commemorating "Some Children See Him," and its message of tolerance.
There are links to follow below, should you want to know more, but for now, please join me in hearing these lyrics, and an arrangement of this carol inspired by the performance of Dave Grusin's arrangement, sung by James Taylor. This solo piano/voice version was mixed and edited by Kaj Lund Olsen. Click HERE to listen.
"We are not only to love those who are like us. We are even—no, especially—to love those who are not like us."
― Scott Sauls, "Jesus Outside the Lines: A Way Forward for Those Who Are Tired of Taking Sides"
What good is it to me that Mary gave birth to the son of God [so many] years ago, and I do not also give birth to the Son of God in my time and in my culture? We are all meant to be mothers of God. God is always needing to be born.
–Meister Eckhart
We could learn a lot from crayons. Some are sharp, some are pretty and some are dull, Some have weird names, and all are different colors, but they all have to live in the same box.
Author Unknown
"Each one of them is Jesus in disguise."
– Mother Teresa
Karl Olsen, Minister of Music
Some Children See Him–Wihla Hutson & Alfred S. Burt 1951TRO (C) Copyright (renewed 1982) and 1957 (renewed 1985) Hollis Music, Inc., New York, N.Y. International Copyright Secured. All Rights Reserved Including Public Performance for Profit. Used by Permission. CCS License #11033.
Links:
http://alfredburtcarols.com/index.html
http://www.thecarolingcompany.com/dianeburt.html
https://historybecauseitshere.weebly.com/alfred-burt-and-wihla-hutson.html