Today's Word from Deacon Amy…
"Thank you, Trinity!" the voices rang out from the water where a group of bobbing heads were smiling and laughing.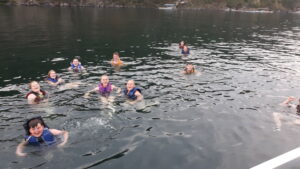 Gratitude was a common theme throughout our time in Montana. These high school students fully recognized and appreciated the amazing support of our beautiful Trinity community.
Eleven high school students from Trinity recently traveled to Flathead Lutheran Bible Camp in Montana. While there, these students participated in service activities both in the community, and on the FLBC campus.
At camp, our group scraped and painted benches, chairs, and tables for the outdoor seating areas. They also strung new buoy lines around the swimming area.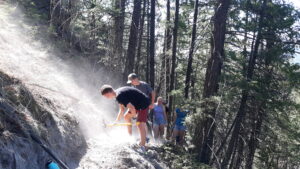 One of the more ambitious projects at camp was digging out and building stairs into a new hillside trail. Students felt accomplished, knowing that the steps on this trail will be used by dozens and dozens of campers and visitors to camp in the years to come.
We also left the camp and spent time in the community. One morning was spent picking up trash along the sides of the local highway.
One of the most impactful service projects was the day that we spent at The Lighthouse Christian Home. This is a community home for adults with disabilities. While there, our group helped with cleaning and organizing, pulling weeds in their food garden, and helping to prepare and clean up after lunch. We also got to visit with the residents, and enjoyed an outdoor worship service together.
Of course there was plenty of time for Bible study, adventure, exploration, and play as well! We had opportunities to swim, sail, hike, climb, and learn new games. Favorites from the week included gaga ball and 9-square.
IN THEIR OWN WORDS
"I really enjoyed the experience and The Lighthouse was amazing. It was beautiful and I really appreciate being given the chance to go." – Thea W.
"I really liked the Lighthouse and the swimming experience at the lake. And the church was so nice I was so glad to get the chance because at one point I thought it would be cancelled. Yeah if we did go again, I would love it just as much." – Aaron M.
"I had a great time on this trip. The lake was beautiful and The Lighthouse was an amazing experience. This group was fun and we played lots of games, I'm hoping to go again." – Carter C.
"I had a wonderful time on the trip and I am so thankful that I as given the opportunity to attend. I loved spending time with this group and I feel like we all learned how to work well together." – Ava S.
"I thought that this trip was a great experience that I'll always remember. I particularly enjoyed the time when we kayaked to another island and had lunch and a Bible study." – Ryelan Q.
"I think that the experience at The Lighthouse was really memorable and had a big impact on me. The lake was also really beautiful and I'm so glad I got this opportunity to come." – Alyssa S.
"I enjoyed being with this group and helping the camp do good things for the community. I would like to go on a trip like this next year." – Erica M.
"I think that the trip was amazing! It was by far one of the best camping experiences I've ever been to. I liked everything we did, even the highway clean up. Some of my favorite experiences came from swimming and being with everyone, also the Lighthouse was really eye opening and fun. I loved drumming for the people there at the Lighthouse. I'm so glad I got to have this amazing experience. Thanks to Amy, Pat, Jennifer, and the [church] for letting us get the chance to go on this amazing trip." – Ian M.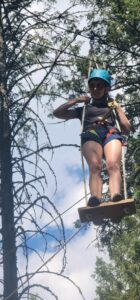 "I really enjoyed FLBC! It was an amazing opportunity to have, and was so, so, so much fun. But it was also a great opportunity to learn new concepts about the fruits of the spirit, and how to apply each one in our every day lives. I was able to see familiar faces but also meet new people and get to know them while experiencing a camp I will always remember. I enjoyed having a great time, but also seeing others have a good time. I loved all the service projects we did (including the Lighthouse, trash pickup, trail blazing, etc.) The Lighthouse was the most memorable service we did. The people there welcomed us in right away, and showed so much generosity and kindness. One of the activities we did while at the camp was a sailboat ride. While we were on the lake it was so peaceful, and I was able to mentally put aside all of my worries or struggles of the day. There were also some activities (such as the high ropes) that was definitely a challenge and a little scary, but the camp staff were always able to bring those experiences and feelings back to what we were learning about to help us reach for a deeper connection with the Bible and God. If I could go back to this camp, I definitely would." – Cristina M.
Thank you, Trinity, for supporting these amazing kids and helping to make this trip and others like it possible for our students!
Deacon Amy