Today's Word from Deacon Amy…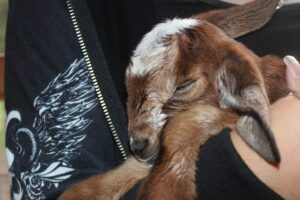 Some of you know that my family has a small farm outside of Freeland. My daughters have both shown goats in 4H since they were in kindergarten. What started with two goats eight years ago, has turned into a herd of seventeen! Some of them produce milk, some carry packs, and some are simply pets. We raise chickens, ducks, turkeys, geese, and now pigs, too. We also have our dogs, cats, and "inside pets" as well. My kids have been among the lucky few who have not had an opportunity to be bored during quarantine! There is always something to do on a farm.
Spring and early summer are my favorite seasons (allergies aside). We find ourselves surrounded with new life! I frequently catch myself singing, "How Great Thou Art!" I am repeatedly astounded with the creativity and wonder of our God. The beauty and intricacy of brand-new life continues to amaze me.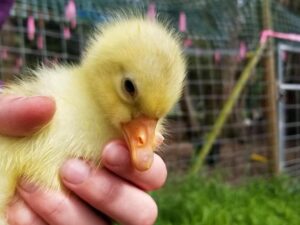 Watching new chicks struggle out of their eggs in the incubator is nerve-racking, and delightful! It takes a lot of work to break out of an egg that is barely large enough to hold the tiny chick! The wonder of the shell, the membrane, and the yolk that feeds the chick for the 21 days of incubation, is astounding. So much planning went into each and every detail – did you know that chicks have teeth? They are each born with an "egg tooth" on the top of their beaks, that helps them break the egg from the inside. Amazing!
The greatest joy on our farm, though, is baby goats. We've been breeding and raising goat kids for several years now, and each delivery is just as exciting as the first! Just this week, we've had two does deliver – a total of five healthy kids! Occasionally, we need to step in and help a kid come into this world, but most of the time, we get to sit back and be amazed by the wonder of new life. All of the does, whether it's their first kidding or their third, know what to do. As soon as the babies are born, these mothers are "talking" to them, and getting them all cleaned up. Within minutes, the brand-new little ones are figuring out how to use their legs, and they start looking for food. Again, their mamas are right there to help them out. We are in awe of their natural instinct. No need to cut umbilical cords on these little ones – God has that planned, too. Every life-sustaining detail is painstakingly thought out in advance.
In less than 24 hours, baby chicks are adorable fluff balls, peeping incessantly. That is, until they fall asleep right in their food dish. We laugh each time we see them topple sleepily onto their sides. Our little goat kids get "boingy" that first day, too. Every object they encounter becomes a playground. Every human or creature they meet is an opportunity to investigate – and run back to the safety of mama, if need be. New life fills us with joy. It renews our spirits.
"O Lord, my God, when I in awesome wonder consider all the works thy hand hath made…" awesome wonder is such an accurate phrase. This season, this spring and summer of 2020, look so different than the seasons that we are used to. But God continues to perform wondrous miracles every day. New life continues to spring up around us. We are so blessed to bear witness to God's greatness!
"Then sings my soul, my Savior God, to thee, how great thou art! How great thou art!"
May you find joy in this season of new life as well,
Deacon Amy
To make a donation to Trinity, follow this link: https://trinitylutheranfreeland.org/give/