Have you ever imagined what Eden was like? The word "Edenic" has been coined to describe a place that seems to share the beauty, serenity, and peace of that original setting. Have you experienced such a place? As Adam and Eve strolled through the garden, were all the creatures "at peace" with the human presence? Was there any fear? As I imagine Eden, I think of stories and pictures of St. Francis of Assisi sharing his garden with its myriad of creatures. One of my close friends, Craig Johnson, is an artist, photographer, and former Whidbey resident. His Edenic painting "St. Francis" speaks for itself. In Craig's backyard, many of the birds and mammals readily came to eat out of his hands. Often birds including crows followed him and his wife Joy as they walked down the street near his home. Craig and Joy have produced an hour-long video of the creatures sharing their less than half-acre piece of land. It is available to download on their web page at Look for Back Yard Birds. While you are there, check out some of the other amazing videos and items listed. You will come away inspired as you see possibilities for your own backyard.
Each of my three visits to the Galapagos Islands provided similar unique, life-changing moments for me. The first time I stepped onto the beach with my students on Santa Cruz Island, a small yellow bird flew down and landed on my foot. New experience – never had a Yellow Warbler, a normally rather secretive bird in North America, been so close! No fear! Why? There are no native predators and no "fear response" for most species! As the class walked down the trail accompanied by our guide, birds were nesting everywhere. If the nest was on the trail, they would not move off the nest or get out of the way. You walked around them! Birds I had only dreamed of seeing were everywhere — blue-footed Boobies, Waved Albatross….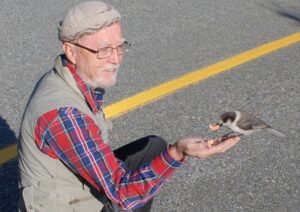 Have you had any similar experiences? On Whidbey or beyond? You can if you just take time. Many of my friends have established relationships with some of the non-human creatures sharing their small piece of Creation. What a joy when a Black-capped Chickadee or Gray Jay fearlessly lands on your hand! I pray that you will enjoy this blessing too. One day at a time as we live as kingdom people with our fellow creatures in God's Kingdom today.
Thanks for listening.
— Joe Sheldon
Direct comments to [email protected].
If you would like to receive additional information on Creation care, notices of special events, Creation walks I lead, etc. please contact me at the above address and I will add you to my e-mail list.