Weekly Word
It was a day that I will never forget for a variety of reasons. Thirty-eight years ago today, my Grandmother Elliott died. She loved Christmas. Christmas in my family revolved around my grandmother; at her house each Christmas Eve there would be a party like none other in the year. The family would gather for festive food: oyster stew, pickled herring, an assortment of fondue pots. There would be Christmas caroling, presents piled high around the tree, and a reenactment of the Christmas story performed by the grandchildren.
My Grandmother Elliott was my friend. She taught me how to play Yahtzee, Chinese Checkers, and poker. We would eat pancakes and ice cream together. When I stayed with her, we would make popcorn balls or fudge. "Never take a chance – eat dessert first."
My Grandmother lived in a house that her father had built, located just off the campus of Northern Illinois University. During my four years at Northern, I had lunch with my Grandmother hundreds of times. I would stop at Burger King and pick us up a healthy lunch. At her kitchen table we would break bread and share the journey.
College graduation and Christmas were just around the corner when my Grandmother fell ill. She had received a blood transfusion in Florida the year before. The blood had infected her; she contracted AIDS. Now, two days before graduation, and one week before Christmas, she was dying at Billings Hospital in Chicago. I pleaded with God to save her life, I offered up all kinds of bargains, I prayed without ceasing. My Grandmother got weaker and weaker.
The doctors felt that she might benefit from an infusion of platelets. I was a match and soon I was three floors down, lying in a bed. Blood was coming out of my right arm, the platelets were being removed, and the blood was going back in my left arm. Then a nurse came in the room looking somber. She said, "Let's unhook you. You should be with your Grandma."
Ninety minutes later, my grandmother was gone. For a very long time, I was not very happy with God. I had never asked for much. If God was all-powerful, it seemed like God could have cut my Grandmother a break. Christmas was different that year, and it has been different every year since.
No longer mad, I now just give thanks for a woman who loved me unconditionally, taught me important life lessons (how to play poker), and died just before Christmas in 1981.
May your Christmas be merry and bright! Appreciate those who celebrate with you and give thanks for those who have gone before you.
See you this Sunday morning at 8:00, 9:30, or 11:00, and on Christmas Eve at 4:00, 7:00 or 9:00.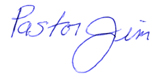 Pastor Jim