Weekly Word from Pastor Jim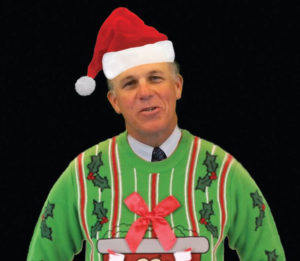 This Sunday at TLC you are invited to wear your favorite Seahawk, Husky, Cougar, Bronco, or even Patriot gear. Actually, we will be talking about John the Baptist this Sunday. So, if you are so inclined, you could wear a leather girdle and eat a few locusts.
On Sunday, December 11 we will be lighting three of the four Advent Candles as we continue to make our way to Bethlehem. In days gone by the color of Advent was purple, but on the third Sunday of Advent a blue candle would be lit. On December 11, you are invited to WEAR BLUE. Blue shirts, blue jeans, blue hats, blue dresses, blue ties, and blue sweatshirts will all be in style at TLC.
On Sunday, December 18, in addition to the Sunday School Christmas Program, we will be having our second annual Christmas Sweater Sunday. (The louder the better.) This might be your only chance to wear that sweater in public this year. At the 9:30 a.m. service that morning, this Grandpa will be holding little Camden James McNany, as he is baptized into the Christian Church.
Christmas Eve is on December 24th this year and we will be celebrating with a family Christmas service at 4 pm. Candlelight Services with Holy Communion will be held at 7 and 9 pm.
The next morning, on Christmas Day at 9 am we will gather for a simple, beautiful celebration of the Nativity. I will have the coffee made early that morning. Please join us.
Finally, I would ask your help as we seek to make our year-end General Fund budget goals. We have given away more than $200,000 this year! Praise be to God. Now it is time to balance our bottom line. Blessed to be a Blessing! I thank you in advance for your Christmas gifts to TLC.
Ho Ho Ho and I will see you in Church!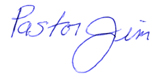 Love, Pastor Jim