Weekly Word
We began our Advent journey as we always do. On the first Sunday of Advent, we gathered for worship and lit one candle on the Advent Wreath. The candle is known as the Prophet's Candle. It remembers the prophets of God who foretold the coming of the promised Messiah.
The Children of Israel needed a word of hope. They were poor and powerless. They were weary and tired. The darkness of oppression and the cold harsh realities of daily life had nearly taken hope from them.
Listen to the hopeful words of the Prophet Isaiah: "The people who walked in darkness have seen a great light. Those who dwelt in a land of deep darkness, on them light shone."
I know that there are many among us who are weary of the drumbeat of daily living. Our bodies fail us, our families disappoint us, media sensationalizes every threat, and political chaos greets us each morning.
The nights are dark now. It is a season of darkness. It is dark when we roll out of bed, and dark when we come home from work. The darkness affects our moods, our body chemistry, and curtails our physical activity. The result can be a "Blue Christmas."
"The light shines in the darkness, the darkness cannot overcome it."
On December 21st at 2:23 p.m., just a few days shy of Christmas, light will begin its return. The immediate evidence of this march toward greater illumination and warmth will not be apparent. Most of God's work is hidden, subtle, under the radar, beyond our comprehension. But God is working in our world, through the ancient rhythm of creation, and in our lives. God is working, and we see evidence of that every day at TLC.
If it is dark in your world at this time, hold on, the seasons will change. Hold on, laughter will return. Hold on, darkness cannot overcome light. We have great reason to hope, even if our current circumstances seem mostly hopeless.
Put yourself in the path of Jesus in this season of darkness. Sing hymns of hope, hear words of hope, say your prayers among broken but hopeful people; do not hunker down in the darkness and go it alone. "The people who walked in darkness have seen a great light."
I will see you this Sunday at TLC as we bring light to the Advent Wreath once again.
Much love,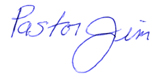 Pastor Jim