Weekly Word
The Seahawks are in the playoffs after an agonizing finish to the regular season. They literally missed winning the division by inches. But this Sunday at 1:00, they will be playing in Philadelphia. That means that their schedule will not interfere with your Sunday morning worship plans.
It is important for us to be together on this first Sunday of a New Year and a New Decade. Why? Because in a world that tends to focus on bad news, we gather to encourage each other and to share Good News! Put yourself in the path of the Gospel this Sunday and every Sunday in 2020. My Sermon is almost done and I look forward to seeing you at your Church Home—TLC.
There is another reason to be in Church. According to the research of the theological think tank, known as the "Ridiculous PJ Institute," the Seahawks are 18.5% more likely to win if you are in church on game day. God does not care who wins the game, but when the 12th Man shows up at TLC, good things tend to happen. Results may vary.
Finally, from a Church of Good News: Thanks to your generous support, we reached and then exceeded our 2019 budget goals. Blessed to be a Blessing! Thanks to you, we have made a difference in the lives of people near and far, from Bihar, India to the streets of Seattle, from communities devastated by disaster, to your neighbors here on Whidbey Island. In a time of unprecedented decline in North American Christianity, TLC continues to shine because of you!
It is a joy to serve with you! See you in Church this Sunday—we worship at 8:00, 9:30, and 11:00 a.m. – welcome to 2020!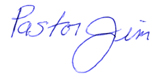 Pastor Jim