"All people are grass, their constancy is like the flower of the field. The grass withers, the flower fades, but the word of our God will stand forever." Isaiah 40
Chauncey and Carol sauntered into church this past Sunday as they always do. They arrived at 7 a.m. to practice with the choir, to have a cup of coffee, to reconnect with friends, to worship God, and to sing praises with a joyful voice. After singing for a second time at the 9:30 service, Chauncey and the choir exited the sanctuary. Someone said to Chauncey, "I think we were better at the 8 o'clock service." Chauncey replied, "I think we did fine at both."
As Chauncey walked with Carol and choir friends toward his car, he collapsed. He would not regain consciousness. Chauncey left this world from church on a Sunday morning after singing of God's love. Chauncey left a world that he loved, his bride of 64 years, and the church that was his second home. He crossed over to the other side in an instant after 89 full, productive, and faithful years.
"The grass withers, the flower fades, but the word of our God will stand forever." Easter reminds us that death will not have the last word. Well done, good and faithful servant Chauncey. We will see you on the other side.
A funeral service for Chauncey will be held on Saturday, May 4th, at 1:00 p.m. Cards can be sent to:
Carol Richardson
638 Windmill Drive
Freeland, WA 98249
My love to you!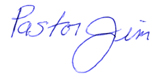 Pastor Jim
Palm Sunday Worship at 8 and 10 this Sunday.