Trinity Free Time (Lots of Free Time) Trivia 
from Trivia Masters – Kevin Lungren & Ervin Knezek
Monday, May 18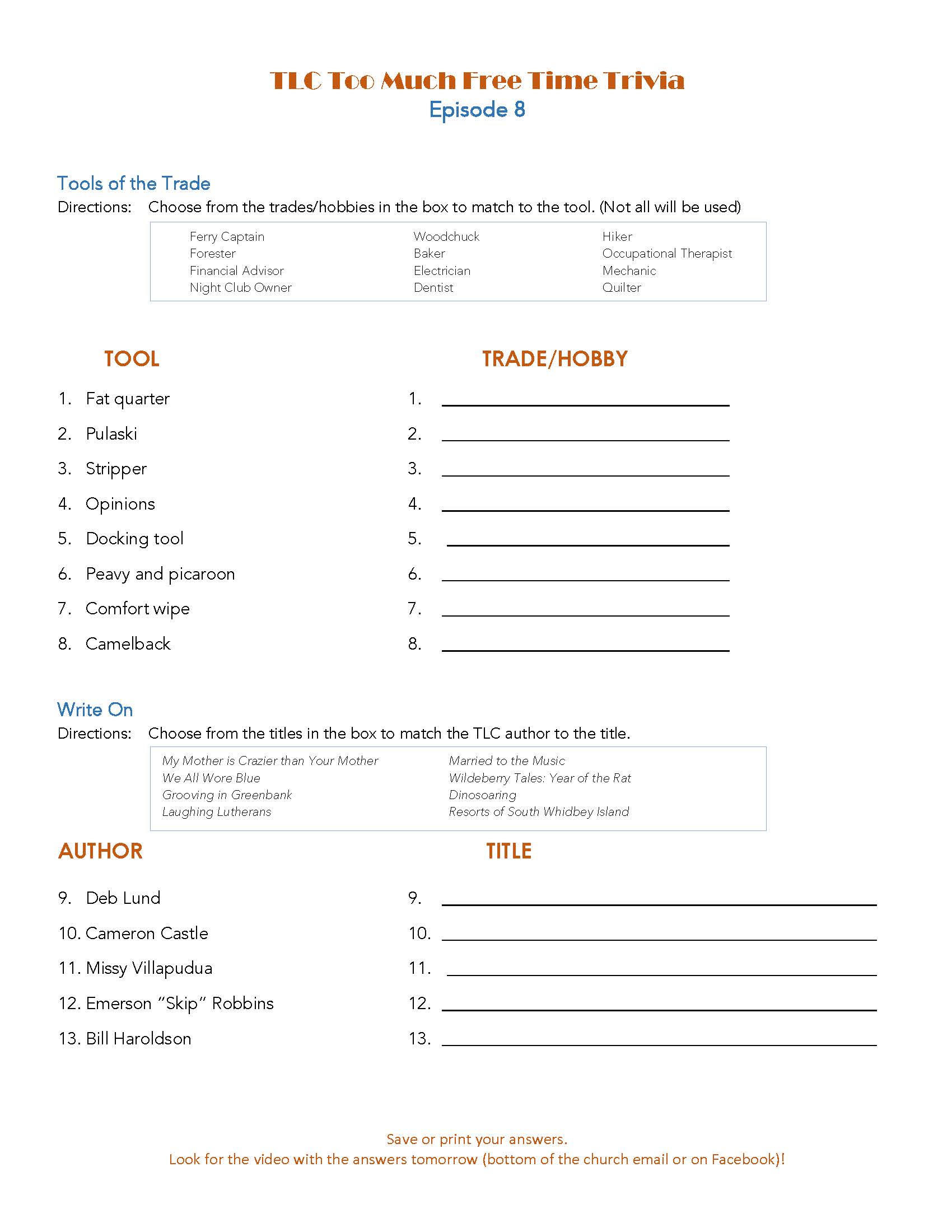 Monday, May 11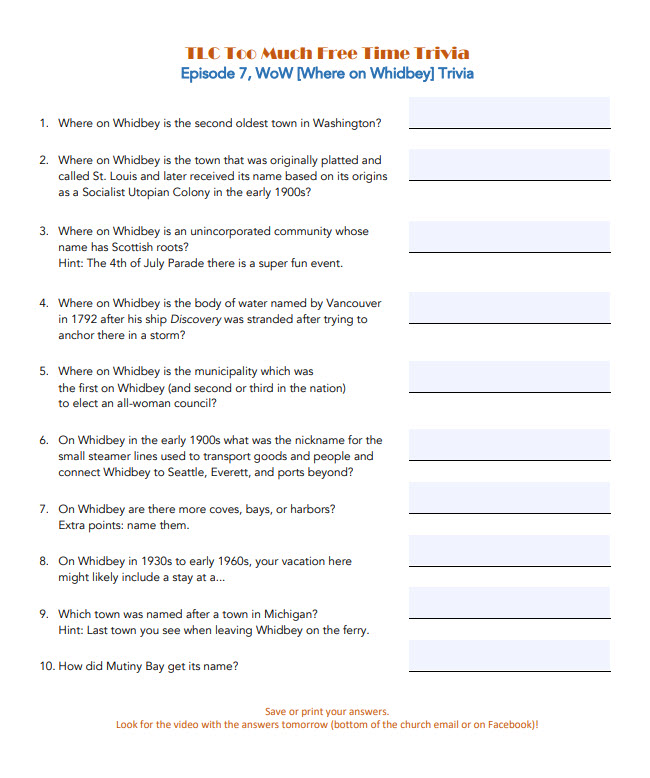 Monday, May 4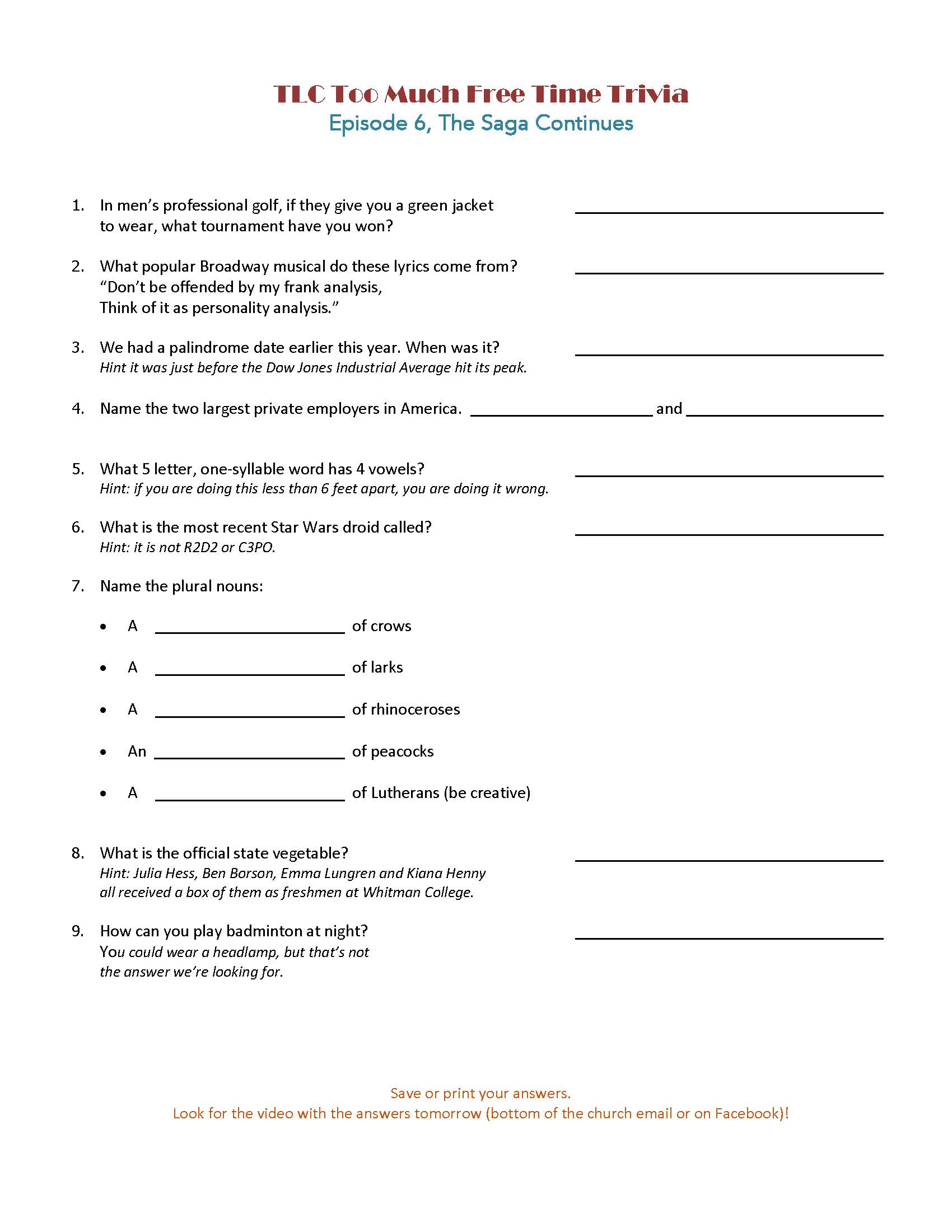 Trinity Trivia
Episode Six
Quiz Answers
Monday, April 27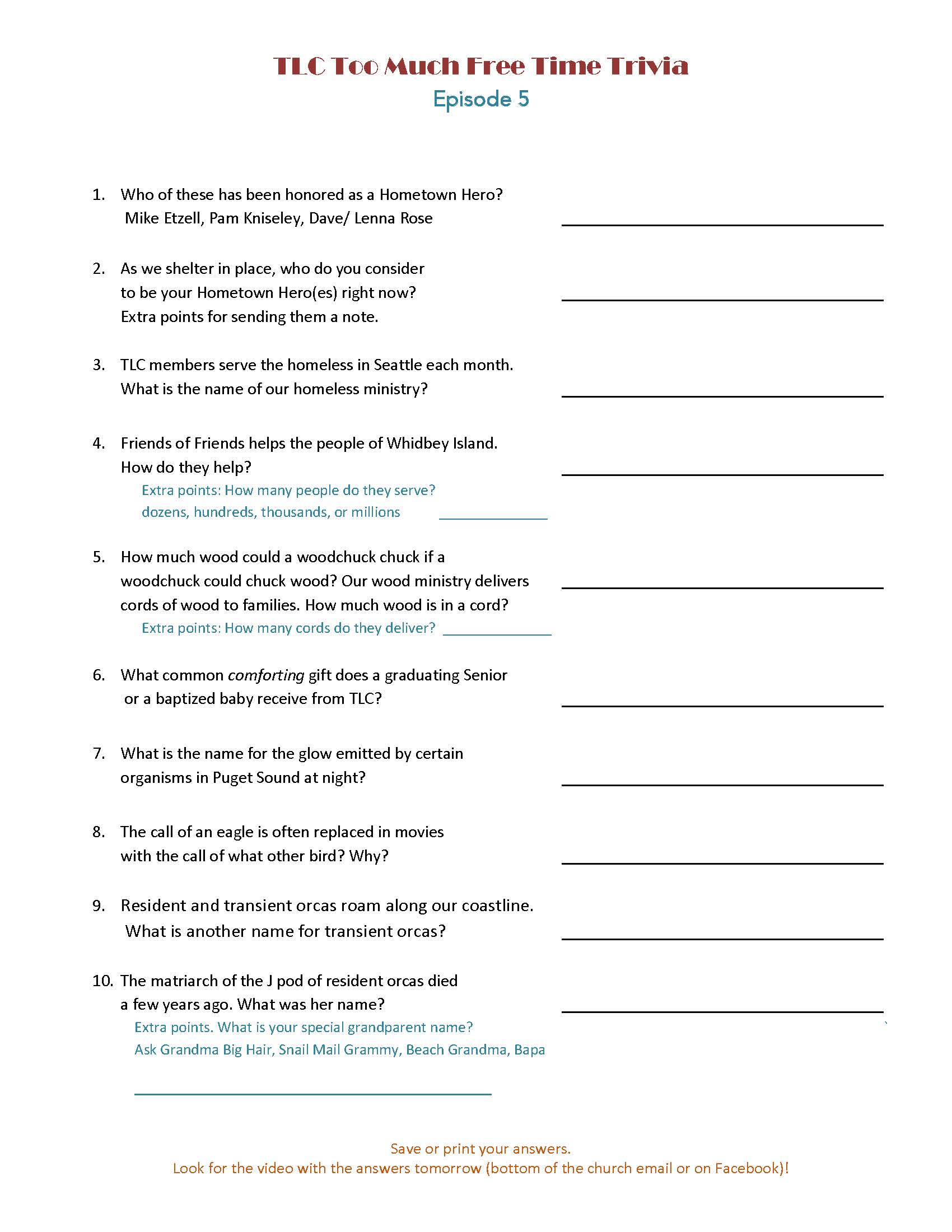 Trinity Trivia
Episode Five
Quiz Answers
Monday, April 20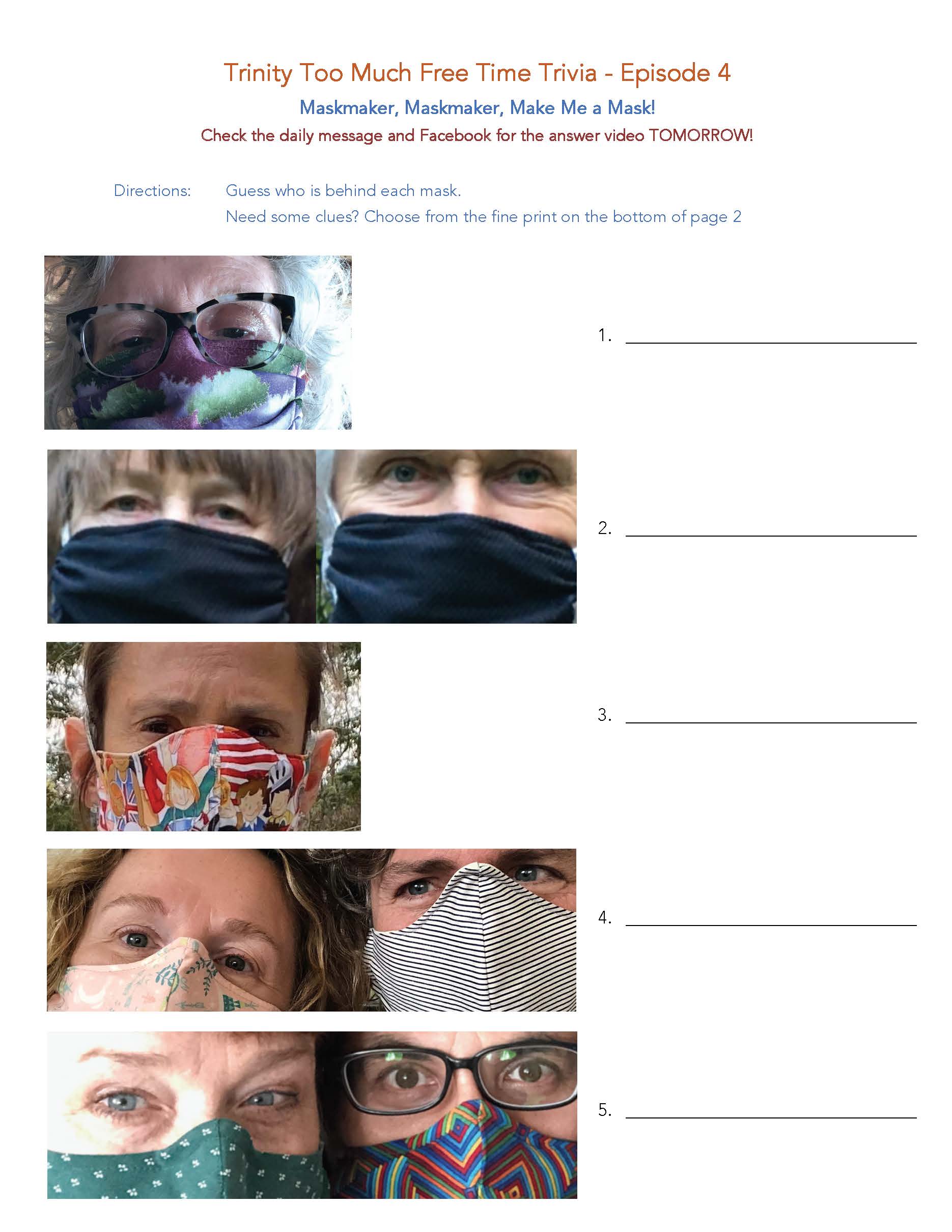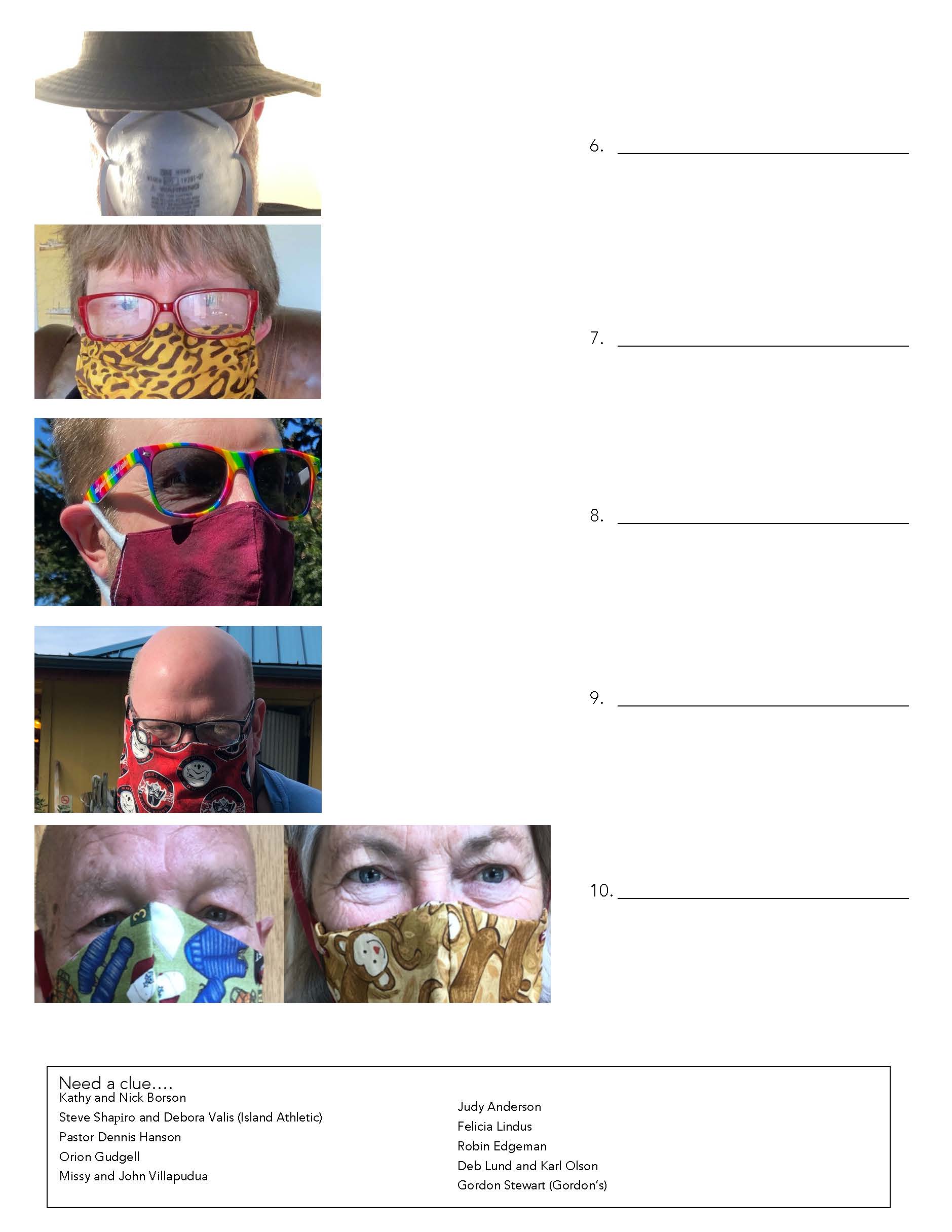 Trinity Trivia
Episode Four
Quiz Answers
Original TLC lyrics to the song Matchmaker from Fiddler On the Roof.
Music by Jerry Bock. © 1964 Bock IP LLC and Mayerling Productions, Ltd. © renewed 1992.
Monday, April 13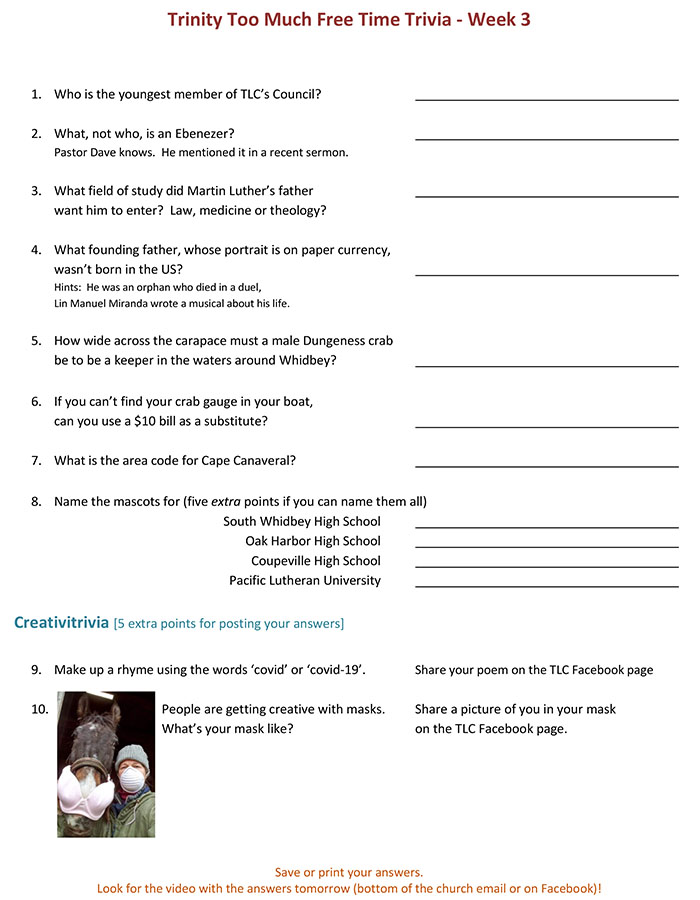 Trinity Trivia
Episode Three
Quiz Answers
How did you do on Too Much Free Time Trivia?  
We are also looking for movie recommendations https://bit.ly/tlcmovies
Monday, April 6
Trinity Trivia Questions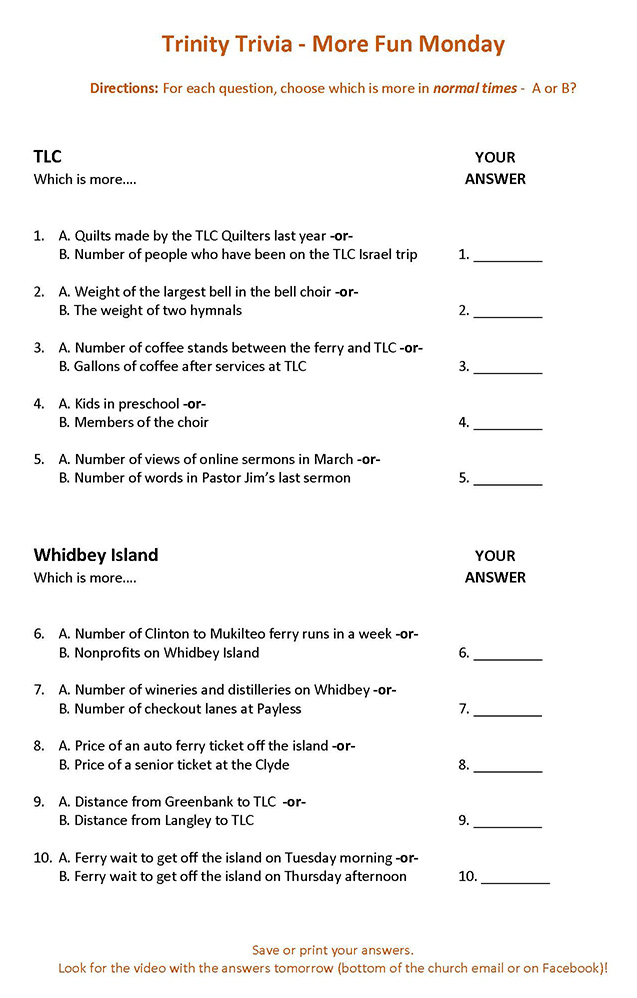 Trinity Trivia
Episode Two
Quiz Answers
Click the arrows on the bottom right to enlarge the video screen.
Trinity Free Time (Lots of Free Time) Trivia 
from Trivia Master – Kevin Lungren
Scoring: You can play by yourself or on a team. It is really between you and God. 
Please score yourself on the JM or/and GA scales: Just Me &/or Google Assisted . 
Answers will be provided in an email and online tomorrow. 
You can score extra points on questions: 8 & 15 
What's a Gimme? A Gimme is Grace: freely given. Like the answers to questions 5, 10 ,11, 16, 18, 19 & 20. Don't know anyone who looks remotely like Elizabeth Warren at TLC? Put down a name, Voila! Right Answer. Your favorite Karl hymn? Mine is Amazing Grace. Put down a song name that Karl sings, or that you wish Karl would sing, and Voila! Right Answer. This is not a blood sport. 
Scoring Categories: Are there prizes? Of course there are. To be awarded post crisis. 
Participant: Pastor Jim will provide a "get out of Hell free" card to all who ask. May not be valid in all places. 
I surprised myself: 20 points or higher. PJ has a nearly unlimited supply of Smarties. Let's test his supply. 
Gee, I'm good at this: 39 or higher on the JM scale? You deserve a bottle of communion wine.
March 30, 2020 Trivia Questions
 Know your church 
1. What are the first 8 words that Jim Lindus normally starts his sermons with? He has altered them recently since nobody has been attending church lately. 
2. What are Tom Kidd's normal first 3 words? 
3. What major religious leader was particularly fond of fishermen? Don't overthink this one. 
4. Who is the reigning Mister South Whidbey? He loves to dance and give hugs. 
5. Who is TLC's own Elizabeth Warren look-alike? I may be the only one who thinks so.
6. What is the name of TLC's decidedly non-social distancing gathering held each September? Pat Sasson knows. 
7. What is Jim's favorite outdoor sport? Tom Brown knows. 
8. Jim and Felicia have how many daughters and currently how many grandchildren? Have you seen the pics? 
9. What former TLC church council President drove the Pope Mobile into the TLC sanctuary? 
10. What is your favorite Karl Olsen song/hymn? 
11. What is your favorite TLC Adult Forum topic? 
12. Several TLC members wore lederhosen and nun's habits for the viewing of a certain movie musical that was shown in the Fireside Room by the Church Council Fun committee. What was that movie? 
13. Of what well known musical group is Karl Olsen the youngest member? 
14. Who is the current TLC Council President? 
15. Stump the Pastors? Heck, for a whole bunch of points, name as many of the pastors, ministers, almost pastors who sing in our choir, attend our church, comfort the sick, make us laugh and cry, and generally grace us with their presence?
16. Martin Luther was a German monk who drank beer and reformed the church. Why don't we intinct our wafers in beer? Is it a tradition we should start? 
17. Spell the name of the German city that Trinity Pilgrims won't be visiting this September. Hints: It starts with the letter 'O' , and has 5 syllables. They have been holding a festival there every 10 years since 1634 to celebrate the end of the Black Death. How should we celebrate the end of COVID-19? 
18. Did you seriously consider Deacon Amy O'Collins' offer to participate in an all night church 'lock in'? 
19. On Tee Shirt Sunday, several members (myself included) wore their HHOGS shirts, which stands for…"? 
20. What is your favorite Tee Shirt Sunday shirt? 
Know your body
 21. How much volume (in quarts) of spit do your saliva glands produce each day? 
22. Where the heck is the Glabella, and do you have one? 
23. Where is the ischial tuberosity (or tuberosity of the ischium)? Mary Jane Lungren knows where hers is. 
24. Dua's Layer was discovered in 2013. Does the year help? OK, it is a membrane. Where? 
25. Where would you find a Lunule? 
26. "My, what a cute philtrum you have!" Where is it? 
Wise words from Pastor Jim: "Honk if you love Jesus, Text if you want to meet him." Like many, many phrases with Jim, I don't think he made it up himself. 
Did you enjoy this? I hope you did. I look forward to seeing you all again soon. Kevin Lungren 
March 31, 2020 
Trinity Trivia Episode One