September 10: Uniting Diversity in Faith, Philosophy, and Sensitive Issues of Class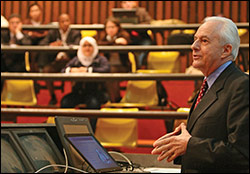 Sir Nicholas Zefferys, has worked in Malaysia and Southeast Asia for the past 25 years. His experiences at the highest government level and with people at the working level in the region, and involvement in various religions are intended to help illuminate a generally unknown part of the world. He will share the nature of a multicultural and multi-religious society where substantial diversity in faith, philosophy, and sensitive issues of class unite under a national umbrella and diplomacy with varying success.
Speaker: Sir Nicholas Zefferys
Bio: Sir Nicholas Zefferys is an international business consultant with a multinational career in telecommunications; President & CEO Palmer Lane Global. He was conferred the title of "Sir" by the honorable King of Malaysia in the course of his work there over the past 25 years. Sir Nick is also past- President of the American Malaysian Chamber of Commerce. Nick served in the U.S. Navy, has a B.E.E. from Rensselaer Polytechnic Institute in Troy, New York, a B.A. from State University of New York in Buffalo, and served in elected and appointed leadership positions for a number of civic and charitable organizations.