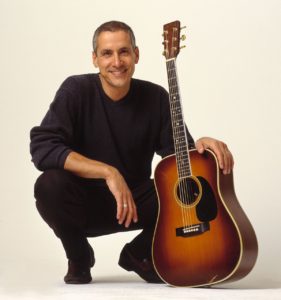 Singer/songwriter David Roth will be in concert at Trinity Lutheran Church on Monday, April 23 at 7 p.m.
David is a consummate performer, singer, songwriter, and musician, with sparkling guitar work and a great gift for telling stories—spoken and sung. In addition, he is professional in every respect. On the top of that he is a delightful human being.
David has around the world and has just returned from a tour in Germany. Come and enjoy an evening of folk music and storytelling at its best.
Donations will be welcome at the door and cds available for sale.
Here is David's website: davidrothmusic.com
Some testimonials…
"David and his music will touch you to the very depths of your soul. He'll make you laugh and cry, inspire you to rise and fly…"
Jack Canfield, co-author, Chicken Soup for the Soul
"David has reached our hearts. With voices like his still singing, there's a certainty that the candle will remain lit, the hope reasserted and the dream still sung…"
Peter Yarrow (Peter, Paul, & Mary)
" …one of the best songs I've heard in the last 20 years"
Tom Paxton on David's "Nine Gold Medals"
"David's pure, smooth voice, unsurpassed instrumental ability, incredible humor, and heart-piercing, intelligent lyrics brought folk music, New Age, comedy club, coffee house, and a bit of heaven all together in one unforgettable evening…"
James van Pelt, New Haven Folk Alliance