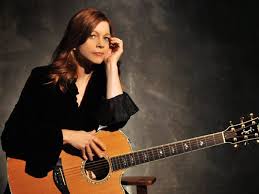 Carrie Newcomer, singer-songwriter from Indiana, will be making a return appearance at Trinity Lutheran on March 25 — Palm Sunday afternoon — at 3 p.m. accompanied by pianist Gary Walters.
Dubbed a "prairie mystic" by the Boston Globe, Carrie has a deeply thoughtful and spiritual view of the world that grows out of her Quaker faith.
"I've always been more intrigued by good questions than easy answers," she says. "Questions like, what sustains and connects us? Where do we find help in hard times?" Carrie has toured in India and is a prominent voice for interfaith dialogue and social justice. Join us for a magical afternoon!