Trinity's Adult Education Classes meet at 9:30 a.m. on Sundays from September 15 through the end of May, in the Fireside Room.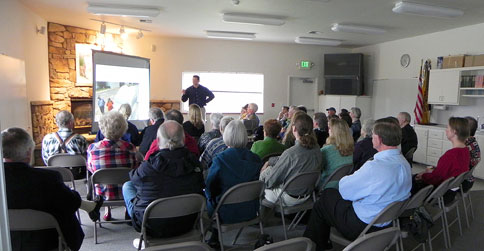 Topics include different denominations, Interfaith studies, Lutheran history, current social issues. We have guest speakers specialized in a variety of bible-based academia, including seminary professors, pastors, emeritus professors, religious leaders from other religions, and other professionals.
Join us for presentations related to Christian discipleship.
Our goal is to offer a variety of topics ranging from Christian spirituality, Scripture study, Interfaith, to moral and social issues.
For further information, please contact Linda Abegglen Nevermann, Adult Education Coordinator.

February 
2 

 

Journeying with Severe Pain, Chronic Illness, Life-threatening Disease      
Everyone experiences one of these life-changes at some point—our own or that of  someone we love.  Each one is unique. Shaleen doesn't have a universal road map through suffering, but will share her journey with an incurable disease.                                                             
Speaker: Shaleen Camery-Hoggatt Women's Ministries
9 

 

Reverse Evangelism…Finding Christ in the Margins
Evangelism Committees have been by far the most difficult committees to find people to serve. We have a Biblical mandate to go and spread the good news, don't we? How has Evangelism created a difference in power, impeded our success, maybe been somewhat un-biblical? Let's find a new lens to look at all our helping ministries that we are currently doing in our congregations?
Speaker: Pastor Andy Yee, Assistant to ELCA Bishop Shelley Bryan Wee Bio: Pr. Andy Yee has been working as the Assistant to the Bishop (NWWA Synod) very recently.  He brings parish    experience primarily in Youth and Family Ministries.  Prior to his call with the Bishop, he served nine years as Chaplain at Josephine Caring Community working with those struggling with issues of aging.
16 

 

Enlightened by Wisdom of Epiphany  
As a star led the Magi to the baby Jesus the season of Epiphany enlightens the eye of the heart (Ephesians 1:17-23) to see the saving presence of Jesus Christ in our lives and all the world. With song and story, experience the wisdom of Jesus in a season of awe, wonder, and delight.                                                        
Speaker: Rev. Jerry O'Neill, D Min., Post Masters in Spiritual Direction     
23   From Ashes to Fire                       
Here is a question you hear frequently just before Ash Wednesday:  "What are you giving up for Lent?" Perhaps this year you might want to ask yourself: "What are you taking up for Lent?"  To help you think about "taking up" something for Lent, join us for a discussion about Lenten traditions and how to plan your observance of this holy season                                              
Speaker: Pastor Wayne Bacus
---
March 
1 

 

A Doctor's Stories from the Edge of Life and Death III                    
Hear the deeply moving life and death stories from Dr. Betsy MacGregor's 30 years of working as a physician in a NYC hospital. She will talk about her  patients and seeing them not only through a physician's eyes, but seeing them as sensitive, vulnerable people at end of life
Speaker: Dr. Betsy MacGregor        
8  Long-term Relationships From Marriage to the End of Life
With more than 50 years of married life, witnessing the lives of countless colleagues, patients, clients and friends along the way, Charles, with input from Betsy, will share life experiences and lessons learned about relationships over the long term. Making marriage work, dealing with  illness and aging, and preparing for end of  life.                                                                           
Speaker: Charles Terry
Bio: Charles has 50 years experience establishing, leading   and advising nonprofit organizations, philanthropic foundations. He served as Director of Philanthropy for the Rockefeller Family; founder and Executive Director of The Door—a Center of Alternatives for Youth which provides comprehensive health, mental health, social services and arts center for teenagers in New York City. Founded NYU Law School Program in Urban Law, a clinical training program providing free legal services to disadvantaged individuals and  communities. Founding board member of Enso House on Whidbey Island and is a long-term board member of Partners for Youth Empowerment, which provides programs and training for youth and adults in 15 countries around the world. Graduate of Dartmouth College   and Harvard Law School, and attended the original Woodstock Music Festival in 1969, an educational experience that influenced his life. His current passions included photography, particularly documenting the lives of children around the world, and writing. Charles and wife, Betsy, are TLC  members.
15    Stump the Pastors                 
See if you can "stump" these mischievous amigos with your most difficult theological questions. Bring your written questions; paper and pencils also provided.                                                               
Speakers: Pastors Dennis, Tom &  Jerry
22 & 23   The Passion of Joan of Arc I & II 
According to 2012 Sight and Sound critics' poll, this 1928 "talkie" is the 10th Greatest Films of All Time. This French historical film is based on the actual record of the trial of Joan of Arc. It tells the story of the doomed but ultimately canonized 15th-century teenage warrior. On trial for claiming she'd spoken to God, Jeanne d'Arc is subjected to inhumane treatment and scare tactics at the hands of church officials. Initially bullied into   changing her story, Jeanne eventually opts for what she sees as the truth. A famously brutal execution, earns her perpetual martyrdom.
Speaker: Linda Nevermann
---
APRIL 
5  Christ Killers                 
We begin Holy Week today, first a parade of palm-wavers and Jesus on a  borrowed donkey. It goes downhill from there. We end the day with a tangle of questions, condemnations, accusations. The Chief Justice of Rome is involved, religious leaders supported by the mob of people make their claims against Jesus, an itinerant preacher who ends up being crucified, Why? Who killed him? Who can we blame? Pilate? The mob? The Jews? Who's at fault?. What had  Jesus done so wrong that crucifixion was a just or two, "No one is above the Law"! 
Speaker: Pastor Dennis Hanson   
12  Happy Easter – No Class 
19 & 26  Joy in the Bible I & II               
What is joy? Is it different from happiness? What does the Bible say about it?
Speaker: Dr. Tom Johnson   
---
MAY 
3    Meet The Heretics                    
We must love them both—both those with whom we agree and those with whom we disagree, for both have journeyed with us in the quest for truth and both have aided us in the finding of it. – Thomas Aquinas. Learn the role played by the heretics in furthering Christian theology and practice.                                                              
Speaker:  Pastor Jerry Camery-Hoggatt
10   Open Mic with Pastor Dennis      
Questions: The Church, ELCA, Bible, Sacraments, difference between Lutherans and……?, Pastors – how does one become one, how long does it take to be ordained and what is ordination, etc.. How have things changed in the church since he was ordained (1964 ) – worship, music, etc..                                             
Speaker: Pastor Dennis Hanson
17   Israel Trip
Hear the stories and see pictures of the amazing historical sights of the Holy Land.                                           
Speaker:  Mark & Colleen Winslow
Last class until Sept. 14, 2020.                   Adult Ed Coordinator: Linda@trinityfreeland.org