Trinity's Adult Education Classes meet at 9:30 a.m. on Sundays from September 15 through the end of May, in the Fireside Room.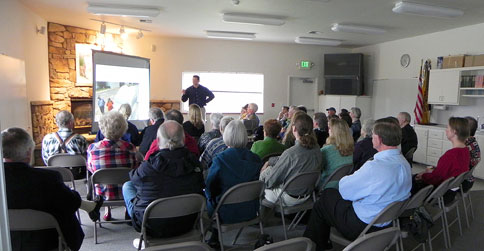 Topics include different denominations, Interfaith studies, Lutheran history, current social issues. We have guest speakers specialized in a variety of bible-based academia, including seminary professors, pastors, emeritus professors, religious leaders from other religions, and other professionals.
Join us for presentations related to Christian discipleship.
Our goal is to offer a variety of topics ranging from Christian spirituality, Scripture study, Interfaith, to moral and social issues.
For further information, please contact Linda Abegglen Nevermann, Adult Education Coordinator.

September
15    "Faith Journeys" 
Everyone's experience in how God has come into their lives is unique. Orion will share his journey in faith, encourage class discussion; and help us learn of the multifaceted ways through which the Spirit and the Word has touched us. The mosaic of our stories is one way that makes this place so wonderful in how faith unfolds.                                                                                      
Speaker: Orion Gudgell
Bio: Born Nov. 1974, Bellingham, WA, Orcas Island HS-1993
Univ. of Oregon (BA in History)-1998, Antioch College (Masters
in Edu.)-2003, TLC member, Luther Seminarian-2018-current.  
22    Youth Ministry at Trinity               
Deacon Amy O'Collins and some of our students will be talking about Youth Ministry at Trinity. There will be photos of trips from the past year, including lock-ins, up-all-night events, field trips, and camp experiences.           
Speaker: Deacon Amy O'Collins, TLC Christian Education Director, & TLC Youth  
29     When Mindfulness and Racism Intersect: Deeper Conversations
About Race and Equity Part 1
As Followers of Christ, our job is to love God and to love all of God's creation, including people of all races, creeds, orientations, abilities, and political stances. We will learn practical steps to help live our mission more fully, and center on core concepts around race.
Speaker: Sherryl Christie, Racial Inequity Trainer 
October
6    Deeper Conversations About Race and Equity Part 2
People of color who work in racial equity will share their stories and help us identify our next steps. A light brunch will be served immediately following this class so that we may continue the conversation.
Speaker: Sherryl Christie & Colleagues
13  Why Is There Suffering?
Why can't God stop it? Why do I have to suffer? These are questions we constantly struggle with in our lives. We will address these concerns using Biblical resources and two of the best books on the subject, C.G. Jung's Answer to Job and Victor Frankel's The Meaning of Suffering.
Speaker: Pastor Rod Verub, Director of Pastoral Care at Bethany of the Northwest, Everett
20    Thinking About God I, II, III
        — With All Three of our Minds, Part 1
Speaker: Dr. Jerry Camery-Hoggatt
27    Thinking About God I, II, III
        — With our Tools, our Friends, andour Institutions, Part 2
Speaker: Dr. Jerry Camery-Hoggatt
November
3     Thinking About God I, II, III
        — With our Traditions – A Birdseye View of Christian History III
Speaker: Dr. Jerry Camery-Hoggatt
10    Considering Inclusive Language
Jesus mourned over Jerusalem saying "How I wish I could gather you into my arms as a mother hen gathers her young under her wings." Where else do we find feminine images of God in Scripture and tradition?
Speaker: Dr. Dave Bieniek
17    Feminine Images of God
If we find these feminine images of God throughout Scripture and tradition, why do we tend to use exclusively male language for God? We will explore ways to expand that language.
Speaker: Dr. Dave Bieniek
24    Creating Sacred Space
Anywhere we find ourselves, can be a sacred space. Creating and perceiving intentional spaces where we can reflect, ponder, and meditate with God can ease and comfort our busy minds, hearts, and spirit. We will draw from the "Sacred Spaces" resource of the Women of the ELCA, as well as, other sources to explore and deepen ways for us to "Be still and know that I am God" in our daily lives.
Speaker: Chaplain Eileen Burdick
December
1    A Conversation & Living Through Alzheimer's
Alzheimer's: A conversation about its carriers, its caregivers, the caring, the cautious, the concerned, the scared, and the curious. King will share his relationship to Alzheimer's and Alice will discuss her life as a spouse, partner, and caregiver.
Speaker: Pastor King & Alice Rockhill
8  Enjoy Christmas Music on the Dulcimer
Delight in Christmas carols and songs played on the Mountain Dulcimer, an American folk instrument from the Appalachian Mountains. Sing along and if you play the dulcimer, bring it to join in also. David, a minister in the United Church of Christ, has been playing the dulcimer for fifty years.
Speaker: Rev. Dave Schoen
15  Epiphanized!
Most of us know the song, Twelve Days of Christmas. Yet, there is so much more to the Epiphany celebration than a partridge in a pear tree, two turtle doves, etc. The Epiphany season is all about the Three Wise Men, or were they Kings, or maybe they were Magi? Learn how to celebrate the Twelve Days of Christmas and get Epiphanized.
Speaker: Pastor Wayne Bacus
22  What is your Favorite Christmas Gift?
Speaker: Pastor Tom Kidd
Last class until Jan. 5, 2020.