Trinity's Adult Education Classes meet at 9:30 a.m. on Sundays from September through the end of May, in the Fireside Room.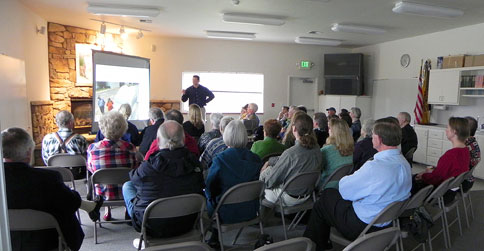 Topics include different denominations, Interfaith studies, Lutheran history, current social issues. We have guest speakers specialized in a variety of bible-based academia, including seminary professors, pastors, emeritus professors, religious leaders from other religions, and other professionals.
Join us for presentations related to Christian discipleship.
Our goal is to offer a variety of topics ranging from Christian spirituality, Scripture study, Interfaith, to moral and social issues.
For further information, please contact Linda Abegglen Nevermann, Adult Education Coordinator.

APRIL
7    "Jesus Died on the Cross For My Sins" 
What does that mean? Is that different than Jesus died for the sins of the world? As we       prepare to  accompany Jesus during Holy Week, what exactly are we confessing and what are the implications for our life of discipleship?                                                                                              
Speaker: Pastor Tom Kidd
14    Feminine Images of God               
Jesus will have just mourned over Jerusalem saying "How I wish I could gather you into my arms as a mother hen gathers her young under her arms." Where else do we find feminine images of God in Scripture and  tradition.)                            
Speaker: Dr. Dave Bieniek    
21    Easter- No Class
28    Religious Calligraphy  
Did you know there is more than one style of calligraphy? Learn about the history of religious calligraphy and see samples of medieval illuminated  manuscripts and other historical works.                                                       
Speaker: Marlene Zeffreys    Bio: Marlene is an author, entrepreneur, and wild life advocate.    Marlene and her husband, Sir Nicholas, are TLC members.
MAY
5   Bring Me Something Positive on Climate Please  
One more ominous fact, one more worst-case scenario. Is there any other information out there? Learn about climate solutions that can be our future. With a background in nursing, biology and photography Don believes as God's hands, we can move with purpose, and that climate challenges are the new   veneer on the timeless landscape of faith.     
12  The Bihar Project
The Bihar Project in India is organized by Lutheran World Relief and is      supported by 10  congregations in the US. Hear reflections on the recent visit to India and learn about building long-term food security for some of the poorest in the world.                                                             
Speakers: Arnie & Marie Bergstrom, TLC members
19  Israel Pilgrimage
Join our Israel travelers and hear their stories and see pictures of their pilgrimage.
Note: Last class until Sept. 8, 2019.