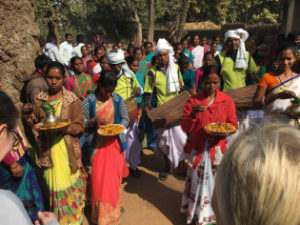 Barbara Bennett and Sheilagh Byler traveled to India in January, 2018 to learn about the BIHAR PROJECT Trinity supports through Lutheran World Relief in collaboration with 10 other ELCA congregations.
Here's an excerpt from Barbara's article about the trip to India:
The villagers we serve through this program are completely dependent on what they grow. Ours is a service project, not evangelizing or church planting, simply a gift to those in need.
I expected to learn about drought-resistant crops and erratic monsoon patterns caused by climate change; the health of chickens and goats and recipes for organic fertilizer and pesticide using cow dung; women's rights, nutritional needs, and deep poverty.
I was not prepared to have my heart filled with the sheer joy of the welcome we received. I was not prepared to receive such a blessing.
Beyond financial support, beyond curiosity, MY heart was tenderized by our visit to India, and MY sense of place in the human family and God's kingdom became broader and more inclusive.
Freely you have received, freely give. (Matthew 10:8)
To read the complete article, click on this PDF link in red below.